ISIS Has Executed Another Hostage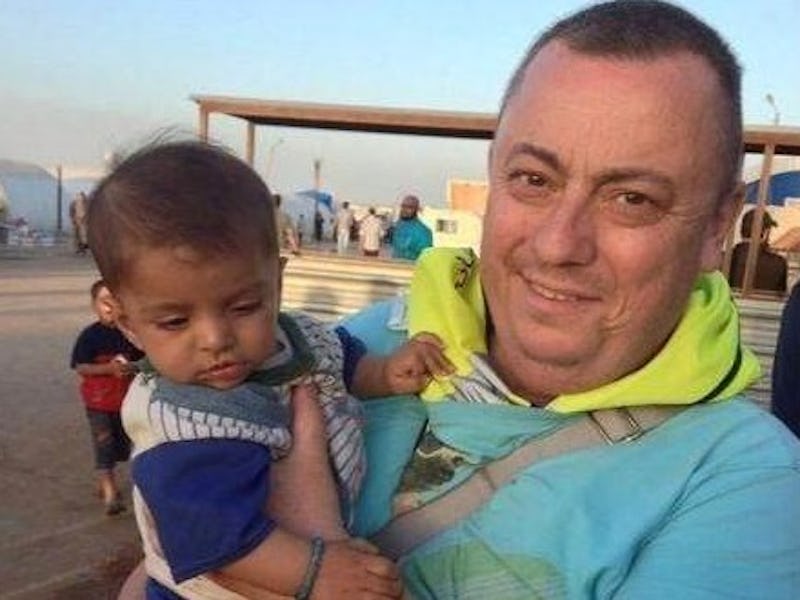 A video circulated Friday appears to show ISIS beheading British hostage Alan Henning. Henning was the captive who was shown and threatened at the conclusion of a previous ISIS video, which showed the murder of Briton David Haines. Henning is the fourth person to be executed by ISIS militants in this way, in addition to Americans James Foley and Steven Sotloff.
Another man, French mountaineer Herve Gourdel, was beheaded on camera in late September by Algerian militants sympathetic to ISIS.
Henning was 47 years old, and according to the Guardian, he'd been held in Syria for nine months prior to the release of this grisly footage. Henning's wife Barbara made an emotional public appeal to ISIS to release him back home, but just as with a similar appeal by Steven Sotloff's mother, Shirley, her pleas went unanswered. Henning was a father of two children, according to The Independent, and was captured while working to provide foreign aid in the Syrian Civil War. Both he and Haines were aid workers, while slain Foley and Sotloff were journalists.
Each one of these successive killings have been equally tragic and infuriating, and they've provoked a lot of discussion about how governments and media outlets alike should handle violent imagery disseminated by terrorist groups.
While not everybody agrees on how or what should be done in reaction to such sensitive viewing material, there's something to be said for looking back on a life lived with family and friends, rather than letting the last memories of a person's life be summed up by one of those gruesome execution videos.
Both the U.S. and U.K. are already engaged in air strikes against ISIS, and both the American and European publics are highly aware of the Islamic militant group's violent march through Iraq and Syria. To the extent that ISIS has any purpose behind these kinds of horrifying images, it's likely simply to stoke and inflame the fears of the people who see them, and to demonstrate an utter willingness to kill in cold blood. After all, there's no real chance of any international powers halting operations in response to the videos, as that would be perceived as ceding to the terrorism.
Sad to say, ISIS' status quo for these videos kept up like usual — at the conclusion of Henning's death, yet another captive was brought on-screen and threatened, amid warnings to both President Barack Obama and British Prime Minister David Cameron. The man was named as Peter Edward Kassig and identified as an American.
Images: MikeHogan4FM/Twitter