Finally, Good News For 'Super Troopers' Fans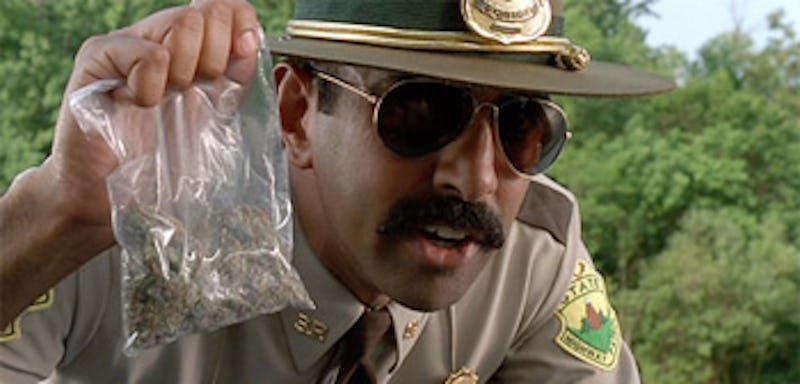 After over 13 years of sitting, waiting, wishing, fans of 2001's Super Troopers will finally get a sequel: And, even better, according to confirmed reports, the cult classic will be returning to the big screen in the very near future. With filming set to commence in 2015, the five main stars — Jay Chandrasekhar, Kevin Heffernan, Steve Lemme, Erik Stolhanske, and Paul Soter — are ready to bring their crazy but hilarious antics back, mustaches and all.
"You know, it was a combination of having to settle some of the legal disputes about making a sequel, while also negotiating terms for it," Lemme told Us Weekly. "The fans have been asking for it for a while, but we were finally able to package everything together."
Lemme also told Us Weekly that in order for the film to happen, the comedy troupe Broken Lizard, which includes all of the film's five main actors, needed to raise $27 million for it on their own. Though they've raised the majority of the money, Lemme said they're probably going to rely on a Kickstarter for the last part of the budget. If that worked for everything from Veronica Mars to Sharknado 2 , then I have no doubts that it'll work for a Super Trooper sequel.
"I think it's one of the more unique and interesting stories I've seen in awhile," Lemme said. "But the movie picks up pretty much where we left off in the first one. It's a few years later. The biggest difficulty was trying to top that opening scene, which so many people have complimented us on. I think we've done it."
Of course, he's referring to the scene where three stoners are in a car, one attempts to eat the rest of their pot when they spot state troopers, and they're arrested — only to fall victim to those exact state troopers' pranks. Although Lemme kept pretty quiet about the plot, it's likely that everyone can expect a barrel of laughs and a whole lot of crazy from the second installment.
Image: Fox Searchlight Pictures/IMDb