Families of ISIS Hostages Speak Out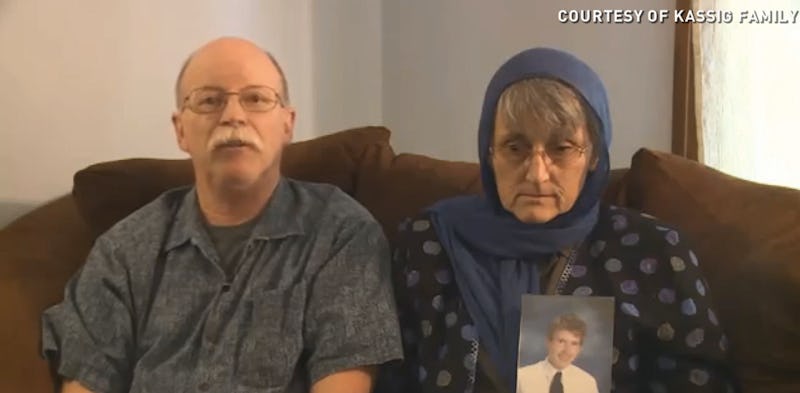 The families of British taxi driver Alan Henning and American relief worker Peter Kassig broke their silence on Saturday following the news of the Briton's tragic beheading at the hands of the Islamic State of Iraq and Syria. Kassig, a U.S. military veteran, was shown at the end of Henning's execution video, being held up by an ISIS guard and wearing the same orange jumpsuit as the slain hostages. His parents, Ed and Paula Kassig, made a plea to ISIS on Saturday, asking for their 26-year-old son's release.
According to Ed Kassig, Peter, who "embraced" Islam in recent years and changed his name to Abdul-Rahman, went missing near Raqqa, Syria, on Oct. 1, 2013. His father said Peter Kassig was inspired to do humanitarian relief work by his grandfather, and started his own relief organization to help Syrian refugees, providing them with food, supplies and medicine.
Peter Kassig said in the family's video message to ISIS:
Our son comes from two long lines of teachers and humanitarian workers. Our family deplores all human suffering and the loss of innocent life, no matter who is responsible. We respond by trying to provide aid and assistance. Our son was living his life according to that same humanitarian call when he was taken captive. ... We implore his captors to show mercy and use their power to let our son go.
Following Ed Kassig's plea to ISIS, Paula Kassig, a nurse who has worked with refugees, spoke directly to her son. She held a framed school portrait of Peter Kassig as she spoke:
We are so very proud of you and the work you have done to bring humanitarian aid to the Syrian people. ... Know that we love you, and our hearts ache for you to be granted your freedom so we can hug you again and then set you free to continue the life you have chosen, the life of service to those in greatest need.
Paula Kassig also echoed the message of her husband, imploring Peter Kassig's ISIS captors to release him unharmed.
According to BBC News, the family of British taxi driver and relief worker Alan Henning also released a statement on Saturday, saying they are "numbed with grief" as they process his murder. A video surfaced on the Internet on Friday showing the alleged beheading of Henning, who traveled to Syria as an aid volunteer. Henning's family and friends say he was drawn to the war-torn country and wanted to provide assistance to the refugees.Henning's wife, Barbara, and his children said in Saturday's statement:
Alan was a decent, caring human being. His interest was in the welfare of others. He will be remembered for this and we as a family are extremely proud of him and what he achieved and the people he helped.
The Henning family also thanked those who pushed for Alan Henning's safe release from his ISIS captors. "We take comfort in knowing how many people stood beside us in hoping for the best," the family said in a statement.
A spokesperson for British Prime Minister David Cameron said on Saturday during a meeting with U.K. government officials that the prime minister condemned Henning's murder, and is committed to bringing justice to the families of Henning, American journalists James Foley and Steven Sotloff, and British aid worker David Haines. "Cameron was clear that we must keep doing all we can to ensure that these terrorists are found and brought to justice for their heinous crimes," the spokesperson said.
Images: Getty Images (2)