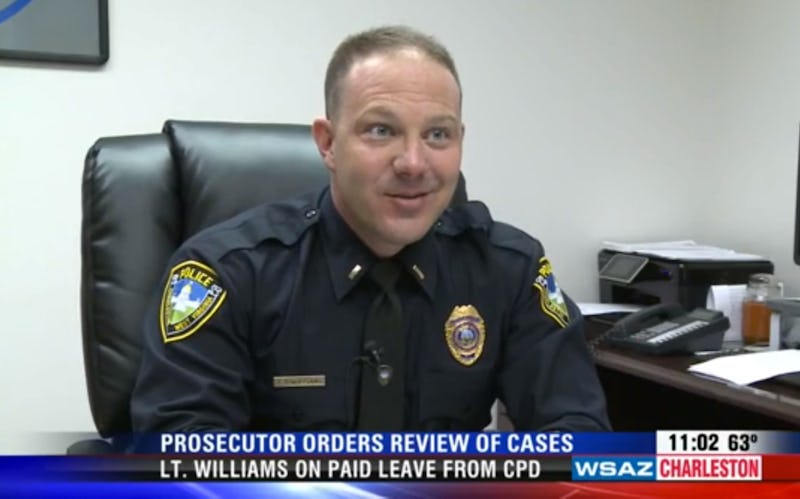 It makes sense that people are nervous about dealing with the police sometimes. After all, they're just human beings like you or I, so you're never quite sure who you're dealing with. In fact, some could even belong to hateful white supremacist groups: a West Virginia police lieutenant was suspended for alleged KKK connections last week, and the fallout is still ongoing. Lt. Shawn Williams, a 16-year veteran of the Charleston County Police Department, has been placed on paid administrative leave after investigators allegedly discovered videos on his computer containing "racially insensitive" content, as reported by the Sunday Gazette-Mail. And if it were possible to make the story any more troubling, the videos allegedly involved his daughter, to boot.
According to the Sunday Gazette-Mail's Rusty Marks, who detailed the troubling story Wednesday, two sources claim that Williams' daughter was dressed up like a police officer in the offending video, and that the anthem of the infamous racist group was playing in the background. While this is obviously still in the realm of allegation, and the video isn't publicly available, the accounts depict a grim scene — a young girl dancing around to the song of one of the most reviled hate groups in American history. According to Marks' sources, the lyrics repeated in the video sound pretty unambiguous.
Stand up and be counted, show the world that you're a man. Stand up and be counted, go with the Ku Klux Klan.
These are highly inflammatory allegations, and crucially important. The naked truth is, if a prominent member of a community's local law enforcement is a member of the KKK, any faith in that officer's policing of people of color goes right out the window. And that's a huge part of the immediate impact Williams' suspension could have — it was announced Thursday that Kanawha County, West Virginia prosecutor Mark Plants will be spearheading a review of past cases worked by Williams, according to WSAZ.
If this all sounds a little familiar, it might be because another couple of police officers down in Florida got caught up in a smilier scandal in July. Officers David Borst and George Hunniwell, members of the Fruitland Park Police Department, both ended up leaving the force (Borst resigned, Hunniwell was fired) after an FBI report alleged they were KKK members. The story shook the Florida town to its core — as detailed by ABC News, Fruitland Park had a history of anti-black violence and KKK visibility throughout the 40s', 50s' and 60s', and in 2009 another officer was fired for membership in the group.. Borst, for the record, denied the allegations, while Hunniwell's ex-wife claimed he was actually undercover.
It'll be important to keep an eye on what exactly transpires from here for Lt. Williams and the Charleston Police Department, considering the length of his tenure and the magnitude of bigotry that's more or less inherent to belonging to a group like the KKK — if it turns out to be true, any and all cases throughout his 16 years that involved people of color are open to entirely fair scrutiny for racial bias. In short, this could be a big mess for all involved.
Images: WSAZ (2)