Iris van Herpen Delivers 3-D Printed Couture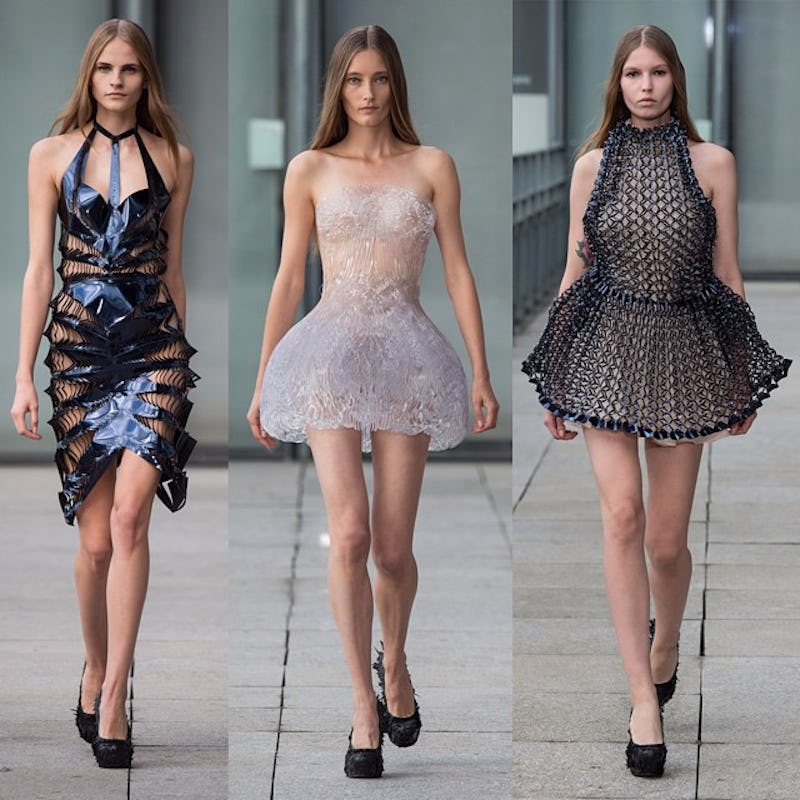 Fashion month is theoretically about determining the trends for the upcoming season, but we all know that what it's really about is artistry and innovation. Not all of the clothes coming down the runway will be wearable, and the large majority of consumers can't even afford the pieces that are. But, that's kinda not the point. Which is why I'm head over heels for Iris van Herpen's 3-D printed dresses that I'll never wear.
The designer sent an array of fabulous 3-D printed numbers down the runway at her Paris Fashion Week presentation, proving that the future of fashion is totally happening. One dress in particular captured my attention — the 3-D printed ice dress, as Fashionista called it. Many of the other designs are overtly futuristic in a way that's a little too Jetson's for my taste. But this dress! It looks like something Taylor Swift could wear on the red carpet (if it weren't so see-through). The structured, strapless dress has a shimmery texture — hence the comparison to ice — and curves out from the hips in a stiff hourglass. Devine.
Created in partnership with an American firm called 3-D Systems, the dress was built to fit model Iekeliene Stange's specific measurements. Annie Shaw, creative director of 3-D Systems, described the process of 3-D printing to Fashionista:
It's been used for industrial applications up until now, and the way it works is that a beam of ultraviolet light is focused onto the surface of a vat filled with liquid photopolymer, so layer by layer the photopolymer hardens and you pull this print out of the vat and there you are! It's really an amazing process to watch.
Although this ice sculpture-like dress is a stunner, it's unlikely that even the most in-the-know It girls will be wearing it. "This dress is pure haute couture," Shaw told Fashionista. "It fit that one girl and it looked incredible, but there is no sitting down."
The ice dress pictured at center
Van Herpen has been experimenting with 3-D printing technology for awhile. Anyone remember that stunning skeleton dress she created? Here's how Forbes described it: "Van Herpen's dress plays on vanitas in another way. Vanitas merges with vanity. The dress flaunts mortality with striking immodesty. Showing off the inevitability of death, the woman in the skeleton dress lives more fully."
I would honestly get married in that dress, that's how amazing it is. Take a look:
If 3-D printed fashion is the way of the future, I am all in. Luckily, Fashionista reports that van Herpen is working with 3-D Systems to develop a more commercially viable line. Perhaps I'll be getting the ice sculpture dress of my dreams after all.
Images: irisvanherpen/Instagram, Getty Images