Guys, Stop Pretending These Aren't Fanny Packs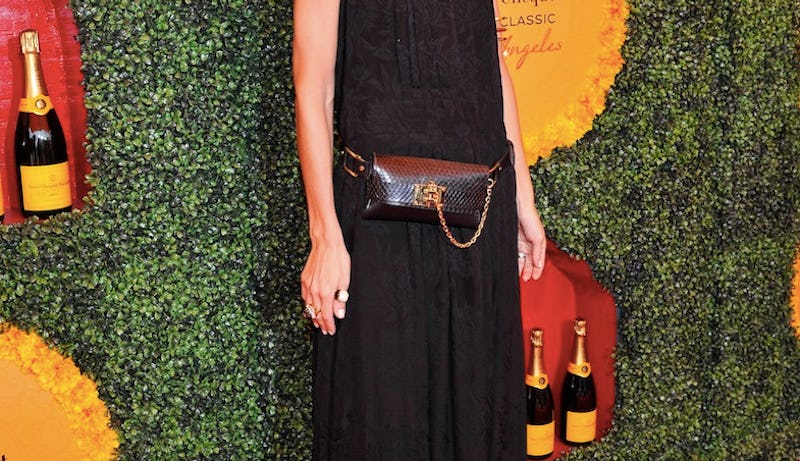 If you haven't heard, the fanny pack is making a comeback, y'all. And it wants more than tourists. In an attempt to show that form can keep up with function, many big-name designers are taking on the reboot of the never-really-that-popular, hands-free bag. But in keeping with its new, chicer image, it's going by a new name: the "belt bag." Although this re-marketing was attempted a few years back, it appears as though it might be sticking this time, as celebrities, designers, and socialites alike have been spotted in these sleeker renditions.
Instead of $20 nylon and canvas pouches, this updated hip-bag is being sewn of the finest leathers and decorated in fun prints and designer logos. Personally though, I don't care what it's called or what it's made of. A fanny pack is a fanny pack is a fanny pack. I'm still not going to want to wear one unless I'm traveling. Maybe. And since the belt bag's new image includes being sleek, a number of these are quite slim. So slim, in fact, that they don't seem as though they will hold much more than a phone and ID. So... basically a pocket on a belt. I appreciate that the fanny pack is getting more love, but I'll stick with my purse, thanks.
In case you are interested in some luxury designers' takes, though, here are some options:
Hermès
Hermès Vintage Contrast Clutch Belt, $1031, farfetch.com
Gucci
Gucci Bridle Original GG Canvas Belt Bag, $625, neimanmarcus.com
Chanel
Chanel Lambskin Waist Bag, $2000, chanel.com
Michael Kors
Michael Kors 13mm Signature Belted Bag, $58, neimanmarcus.com
Images: Courtesy Brands