Are We Ever Getting a "Flawless" Music Video?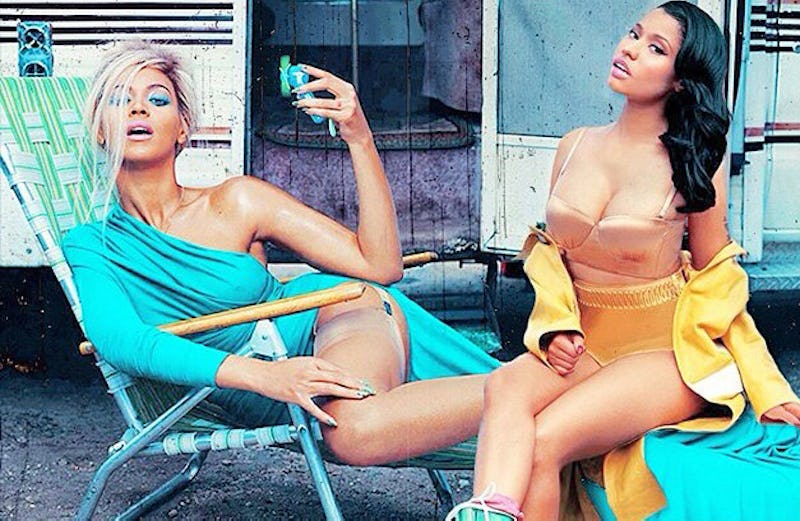 Well, I guess it's better than nothing! On Monday, Beyoncé and Nicki Minaj's live performance of the "Flawless" remix hit YouTube. Filmed during Bey and Jay Z's On The Run tour stop in Paris last month, the clip is a ton of fun to watch, but it has a lot of fans wondering: Are we ever going to get a real music video for the utterly flawless "Flawless" remix?
Sadly, no, I don't think so.
Look at it this way: Beyoncé dropped the "Flawless" remix with Minaj all the way back at the beginning of August. If the two women had filmed a music video for the track, don't you think we would've seen it or at least heard something about it by now? Minaj did post an eye-catching photo with Bey on Instagram and few weeks ago that looks like it could've been taken during a video shoot, but like I said, the song came out two months ago. I fear that the music video ship has sailed at this point.
Thankfully, as I mentioned, this live performance vid is a blast to watch. Minaj does appear a little nervous at first — she was performing right next to Beyoncé, one of the best live performers in pop music today, after all — but she eventually warms up. (Still, did you see Minaj spit her "Flawless" verse acapella at the 2014 iHeartRadio Music Festival in Las Vegas last month? She's capable of so much more.) Don't worry: Yoncé is on-point throughout the entire performance (no surprise there).
If any clues pointing to the release of a real music video for the "Flawless" remix surface, I'll definitely keep you posted — but I wouldn't hold your breath. Then again, Beyoncé has proven herself to be full of surprises these days...
Image: nickiminaj/Instagram