Sia's "Chandelier" Makes for a Simple Halloween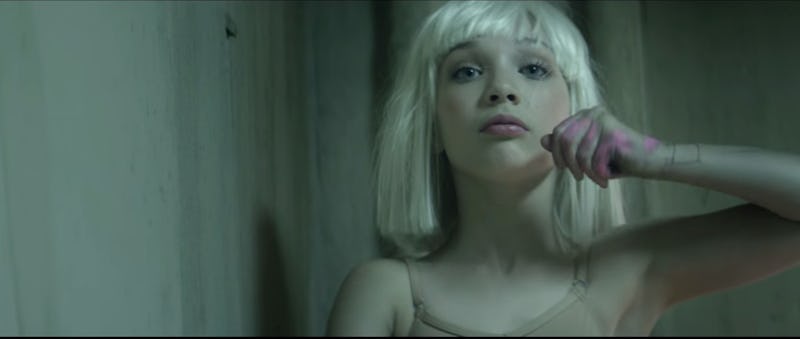 There's always some guy who shows up to a Halloween party in a t-shirt that says, "This is my Halloween costume." Don't be that guy. Minimal festiveness on Halloween is only charming if you're Jim Halpert, unfortunately. However, you don't have to spend a fortune or spend hours welding and sewing to have a fun and creative costume. Fear not ye thrifty ghost and ghouls, for I have the solution: Sia's now-famous "Chandelier" music video. Not only was it a major pop culture moment in 2014 (which always makes for a popular costume idea) but it's also cheap and easy to put together.
The video features Maddie Ziegler from the Lifetime reality series Dance Moms. The pint-sized artist moves eerily around a dilapidated apartment with the athleticism and talent of someone well beyond her years. The clip became a sensation and since it first premiered, Ziegler and Sia have continued having a close personal and professional relationship. Sia just sent the young star the most adorable birthday present ever. Seriously with these two!
I've got a simple three-step costume that will make you the envy of all your pop culture-fiend friends. But if you need a little more inspiration, look no further than Jimmy Kimmel's hilarious attempt to recreate the dance. Swing on!
Step One: The Leotard
Need I even say this is available at American Apparel? It's a skin-tone leotard. OF COURSE IT'S AT AMERICAN APPAREL.
Step Two: Short Blonde Wig with Bangs
This is just $8.99 online via Costume Hub. Also convenient for future Betty Draper costumes for Mad Men finale parties.
Step Three: The Chandelier
Head to your local craft store or order on Etsy a string of faux pearls and drape around your costume and double-up as an actual chandelier.
All together, this costume costs just under $40. Don't forget to make some crazy faces, hide behind a few curtains and contort your way around the party all night. Enjoy!
Images: SiaVEVO/YouTube, American Apparel, CostumeHub, SandyMs/Etsy