There's A Zombie In The 'Bob's Burgers' Porno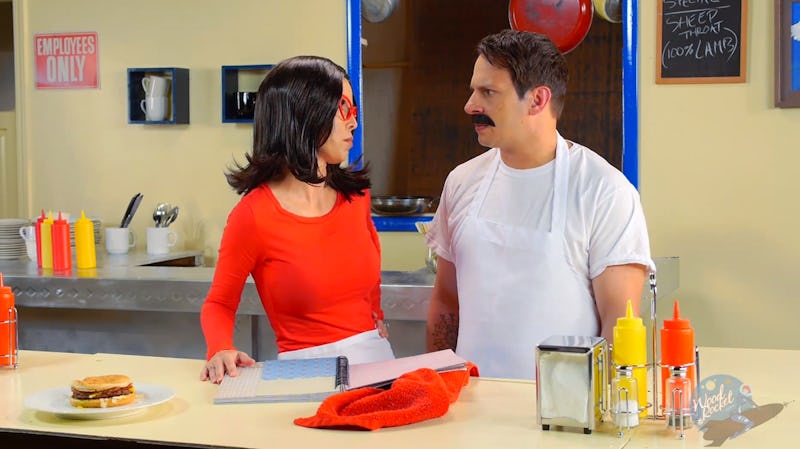 Y'all, buckle up: a Bob's Burgers porn parody now exists. WoodRocket, the production company behind porn parodies such as The Wolf of BOOB Street, Game of Bones, and SpongeBob SquareNuts, released Bob's Boners into the e-world on Sunday. So, if you've always wanted to watch Bob and Linda Belcher take it to the bone zone, consider your wish granted.
In the safe for work preview, Linda and Bob brainstorm innuendo-y puns for the restaurant's menu and read Tina's fan fiction. In the fanfic, 18-year-old Tina hangs out with Jimmy Jr.
Uh oh.
Tina stares at Jimmy Jr.'s butt while he dances dances.
UH OH.
And then, Jimmy Jr. introduces Tina to a zombie.
UH OH!!!!
Tina stares at the zombie.
UH OH UH OH!!!
Tina and the zombie groan at each other.
Tina loves Jimmy Jr. Tina loves zombies. This is porn. I'm pretty sure I know how this scene plays out.
OR DO I? Isha Aran at Jezebel valiantly watched Bob's Boners in its entirety and wrote about what she saw. And to my delight, she addresses the Tina/Jimmy Jr./zombie fanfic scene. According to Aran, the trio never gets its freak on. So, Tina's dream for her eighteenth birthday involves a lot of standing. And staring. And groaning.
That sounds about right.
You bet your hamburger buns I'm still laughing at "Debbie Does Dill-as":
Images: Wood Rocket/YouTube; alittlebitmoresonic/tumblr