We'll See Plenty of 'Arrow' on 'The Flash'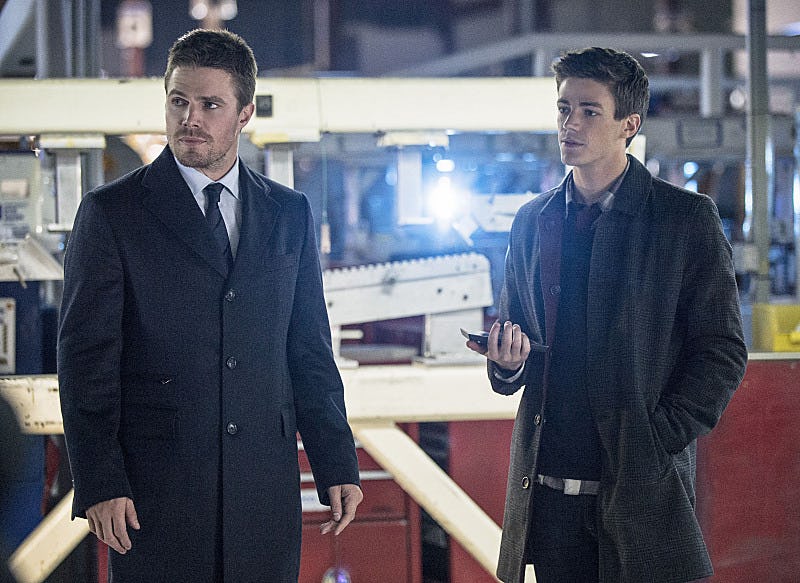 We've already seen Grant Gustin play the not-yet-superhero Barry Allen on Season 2 of Arrow. But now that he's emerging from his nine-month coma with newfound powers of super speed and agility, he's graduated to his own series, with The Flash premiering on Tuesday night. But Barry and Oliver Queen still exist just a city away from each other, and two of the executive producers of both shows, Gerg Berlanti and Andrew Kreisberg, told Screenrant that The Flash and Arrow will continue to crossover and truly occupy a shared universe. And they've already made good on their promise. The pilot of The Flash has a cameo from Stephen Amell as Oliver, presumably tying together the two shows' continuities, with Barry waking up from the coma caused by the lightning strike he suffered shortly after returning to Central City from his short stint in Starling City.
Having Oliver Queen show up is almost like a good luck charm for the show — take one surprisingly successful TV superhero and have him wish the new kid on the block good luck. Plus, it will give Flash viewers who aren't totally obsessed with Arrow already a little hint at what they're missing. Here's another hint:
And in Episode 4 of The Flash, Felicity Smoak (Emily Brett Rickards, who was caught in a flirtatious love triangle between Oliver and Barry in Arrow, because there's no superhero Felicity doesn't have great chemistry with) will be appearing as a guest star. While Barry will be busy navigating his complicated feelings for Candice Patton's Iris West, his close friend and the daughter of his fellow cop Detective Joe West, Felicity will show up, creating another triangle that now puts Barry in the center.
And it doesn't even stop there. Both Arrow and The Flash are planning to do a complete crossover for Episode 8 of each series. The shows air one day apart (Flash on Tuesday, Arrow on Wednesday), so the heroes will start their team up on The Flash's turf and finish things off the following night in Starling City with Arrow. They've already started shooting the two crossovers, as evidenced by this cryptic onset photo from Stephen Amell:
While Arrow and The Flash are both produced by the same studio, there are many differences between the series. Barry is a little more open, friendly, and even optimistic, while Oliver has always been darker and more brooding. So it should be fun to see each hero take a turn in the other's world for a week. Who would've thought DC's most successful attempt at creating a Marvel-esque shared universe would happen on a smaller broadcast network whose known primarily for appealing to teens?
Images: Cate Cameron/The CW; Giphy