There Are Plenty of Places To Catch Season 10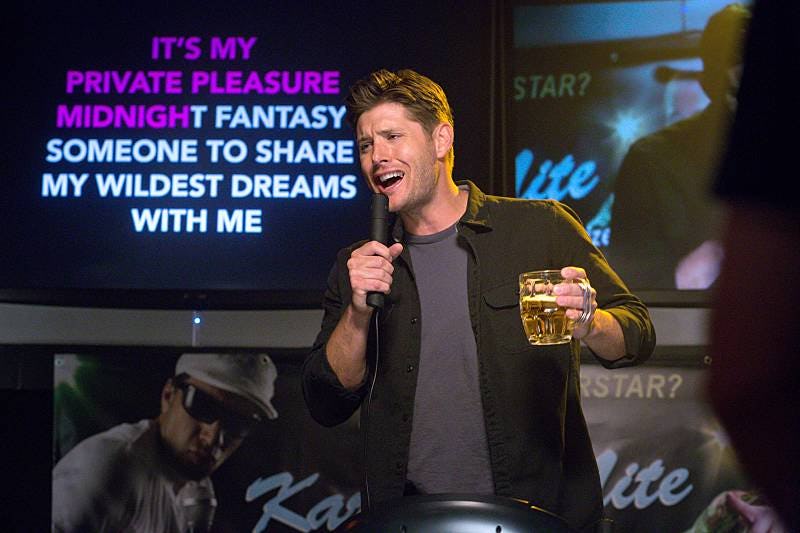 Ready to feel super old? Supernatural is getting ready to premiere its tenth season. The Winchester brothers have been hunting demons for almost 10 years now. And even if you've missed the past few seasons, you're not going to want to miss this one, which is why you should be aware that there are plenty of places to watch the Supernatural Season 10 premiere besides The CW on Tuesday night at 9 p.m. Besides, Tuesday nights are already home to Agents of S.H.I.E.L.D., New Girl, The Mindy Project, and The Voice.
Of course, that doesn't mean you shouldn't be watching Supernatural. Things aren't slowing down just because the show is getting older. If anything, they've picked up the pace since the end of Season 9. Dean is possessed by a demon, at some point sings "Imaginary Lover" at karaoke, and might be under the influence of Crowley as they may or may not be attempting to claim ownership of hell. And producer Jeremy Carver told IGN that barely a few months have passed since Season 9 ended in the show's timeline, but already Sam is going crazy trying to find out what happened to his brother. in Carver also warned, "I think it's safe to say that Sam goes pretty dark, and I think at the time, his desire to find Dean clouds his own thinking in that he doesn't quite see how dark he went. He makes some very questionable moral judgments." Since I know you don't want to miss that, here's how you can watch the premiere if you don't catch it on TV.
CWTV.com
Like most networks, The CW will be making their episodes available online the day after air. Unlike most networks, you don't even need a cable account to access them. By the way — it's already made Season 10, Episode "0" available, which will help you catch up on the events leading up to the premiere.
Amazon
Don't look at me like that, Sam Winchester gif. With so many shows, so many ads on Hulu, and so little space on the DVR, buying shows on Amazon or iTunes (a flat twenty per season works out to less than a dollar per episode) is becoming a viable alternative.
Hulu
Hulu has some of the highest picture quality for online streaming services available, but in order to watch Supernatural, you have to either connect a cable account or wait eight days. But at least if you have Hulu Plus, you can stream it to a phone or some other device.
Plenty of On Demand
No matter what type of cable you have, you should be able to get new Supernatural episodes. It's available on Comcast, AT&T, DirectTV, everywhere except for Time Warner Cable, which doesn't have any information online about CW series. But it might be the best bet for catching up with Supernatural Season 10 — especially since some of the services even let you stream episodes on your computer. That's more than worth a Dean Winchester thumbs up.
Images: Liane Hentscher/The CW; Giphy (4)