Another Mikaelson Made It To New Orleans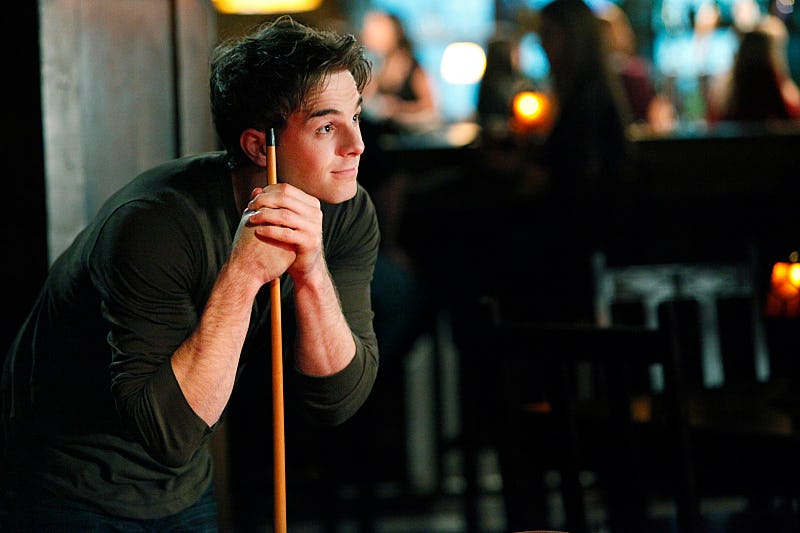 It's truly a family affair in New Orleans. Just when we'd all started complaining that The Originals couldn't live up to its name without Claire Holt's Rebekah in New Orleans, the CW series upped the stakes. Fans of the series knew from the Originals Season 1 finale that Esther, Finn, and Mikael Mikaelson would all be in New Orleans in Season 2. But what we didn't know, was that another Mikaelson would return — The Originals Season 2 premiere, "Rebirth," brought back Kol Mikaelson as well. And it's really just the best possible thing the series could do.
I don't want to take sides, but Finn is the absolute worst Mikaelson sibling. He's all about his self-loathing, he's a momma's boy, and he's just boring. So. Boring. Finn does everything Esther tells him to do and he's just not fun to watch. And don't even get me started on how old and tired Esther and Mikael's vendettas are — like, you guys are parents, get over yourselves and just leave your kids alone. But Kol is different in a wildly more fun, albeit more wicked, way. So much so that it might actually be a good thing for him to be back in New Orleans — I mean, he used to run with the cool Mikaelson crowd, maybe he can get back together with Elijah and Klaus for a comeback tour?
So, where is Kol hiding? Esther and Finn have taken on new bodies, so, naturally, he's taken one up as well. (Which is unfortunate because just like Elijah and Klaus, Kol's original body was pretty easy on the eyes.) Kol is hiding inside of the accented new character Kaleb and he's pretty damn happy about it and, frankly, so I am. The recently revived Original brother, in his signature cocky humor, told Esther and Finn that he was pretty into his new body (probably because of the accent) and that Davina is into it too, just before Esther revealed who he really was.
It's high time we got some actual Originals back on this show and especially some with a wicked sense of humor. Klaus and Elijah have become so serious (for good reason) but Kol, bless his soul, spent more time dead than he did alive and he's still got enough humor to give everyone a hard time. I just hope he gets spared the massacre that will occur when Klaus and Elijah finally find out that their father, mother, and her faithful servant have all returned. Because Kol is the next best thing to Rebekah returning to the Quarter full time.
Images: Quantrell D. Colbert/The CW, Giphy (2)