Save the Feminist Bookstore from 'Portlandia'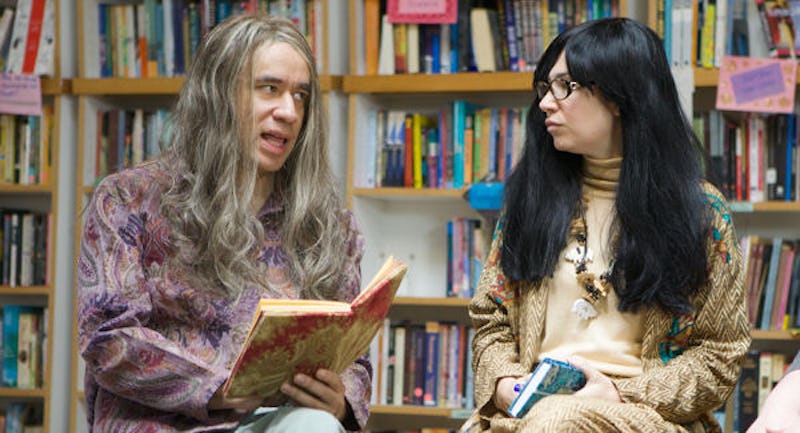 Right now, the fate of the local tent-pole of Fred Armisen and Carrie Brownstein's IFC show Portlandia hangs in the balance: Women and Women First is in trouble. The infamous feminist bookstore where no one leaves happy is not a set but in fact, a real feminist bookstore and community center called In Other Words, and it seems pretty nice. Unfortunately, In Other Words is on the brink of extinction.
Apparently, occasionally appearing on a semi-popular show on a premium cable channel does not leave you rolling in dough. What's more, In Other Words is a non-profit that has recently experienced a large decline in textbook sales, which constitute the majority of the store's income (they do receive money from Portlandia two or three times a year for filming fees). The show has raised awareness of the store, but that hasn't translated to dollars. "
Portlandia has given the space the illusion that we're rolling in money," one of the non-profit's board members, Jane Knechtel said. "We are not rolling in money from Portlandia, and we never have been." Without a significant change in donations, the store will have to close its doors at the end of February.
In Other Words is obviously so much more than just a set for Portlandia. It's a community resource, providing resources like a free lending library and a place for community events. And as Bitch magazine noted, it's one of the only nine feminist bookstores left in the United States. Kumail Nanjiani explored the real In Other Words for IFC, in all its vagina candle, transpiritual gathering glory:
But even if you don't live close enough to Portland to appreciate In Other Words, you can still appreciate the bookstore on the show, which lovingly mocks feminist bookstores like In Other Words. Here are some of the funniest sketches filmed in the store:
Toni and Candace "Help" a Student
For once, Aubrey Plaza plays the straight man instead of her usual sardonic evil witch, and it's amazing. The first introduction of Toni and Candace, including great lines like, "Don't point. Every time you point, I see a penis."
Christmas Vagina Pillows
Bobby Moynihan plays Cadance's son, Robert. But more importantly, there's a baby, whose gender Toni and Candace furiously try to ignore. Oh, and there's vagina pillows. Lots and lots of vagina pillows.
Toni Gets Her Flirt on at Journaling
Things get heated when Toni (of course) falls for guest star Heather Graham at a journaling workshop. Toni, of course, is very skilled in the art of seduction: "You smell like an antelope." "I do a lot of canning. I would like to can you." "Between the two of us, we have four breasts."
Bathroom is for Customers Only
Steve Buscemi makes the dire mistake of using the restroom at Women and Women First without buying something first. Toni and Cadence, of course, do not make it easy for him to purchase anything.
Brunch Village Takes Over Women and Women First
The line for brunch spills over into the sidewalk in front of Women and Women First, which obviously makes it no longer a safe space for women. Also, this is probably the best of Candace's weirdly violent threats.
Image: IFC