Meet The $20 McDonald's Gourmet Burger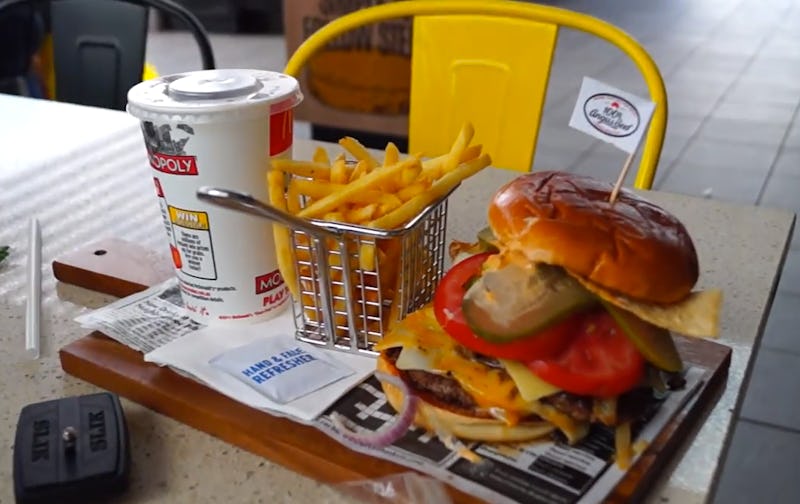 Over the years, McDonald's has tried to reinvent its image countless times. Whether it's to be more sports-bar-like with wings or healthier with premium salads, the chain has tried it all. But even the most loyal customer will be impressed by McDonald Australia's new gourmet burger, while non-regulars might actually be appalled. It's possible to ring up $20 for one of these bad boys, especially if you make it a meal. And yes, $20 will get you a ton of fixings and toppings, but how does the McDonald's gourmet burger compare to a fancy burger at any old gastropub?
First of, it's McDonald's. So for those die-hard McDonald's fans who don't like venturing elsewhere to get their burger fix, this new gourmet option will be a real treat for them. For everyone else, the treat might be more in the ordering experience than the actual burger. That's because the process includes a state-of-the-art touch screen that allows you to choose everything from the type of bun (or no bun, if you're going carb-free), number of beef patties, toppings, sauces, condiments, side options, and drink. And since this is Australian McDonald's, we're not talking your boring pickles and onions here.
Take a look at what it's like to order one of these gourmet burgers, courtesy of YouTuber Erfanau, which are currently exclusively available at the chain's Castle Hill location in Sydney.
First, you choose to eat in or take out.
And select how you want to pay.
Then you either create your own burger, or choose from a predesigned burger.
It's burger time.
Choose from a super-indulgent brioche bun (hands down the best choice, in my book), a super-basic sesame "crusty" bun, or no bun at all (it's not a burger if you have to use a knife and fork).
I wonder what the limit is — I hope it's somewhere in the high 50s, low 60s.
Did someone say four different kinds of cheese?
Because this is Australia, a fried egg is a typical topping. America, pay attention.
Remember when all we had was ketchup, mustard, and mayo? Those were simpler times that I do not want to go back to.
Also common on burgers in Australia: beetroot. We all need to move Down Under.
This guy in the video picked all four special toppings. Guac, mushrooms, and pineapple? This guy is nuts.
Now, it's time to make it a meal.
Fries, every time, obviously.
The usual soda suspects.
The grand damage for everything this guy chose was $16!
It's obligated to ask you to confirm in case you snap out of it and remember that you're at McDonald's and you're about to order a $16 burger.
If you don't come to your senses you can confirm and then select where you'll be sitting, and a staff member will bring your gourmet burger to you.
This is what a $16 McDonald's gourmet burger looks like. I guess I would eat that. Yeah, definitely.
Watch the entire video below.
Images: erfanau/YouTube