Happy Birthday, Mary-Kate and Ashley! 5 Things We Learned from Their Movies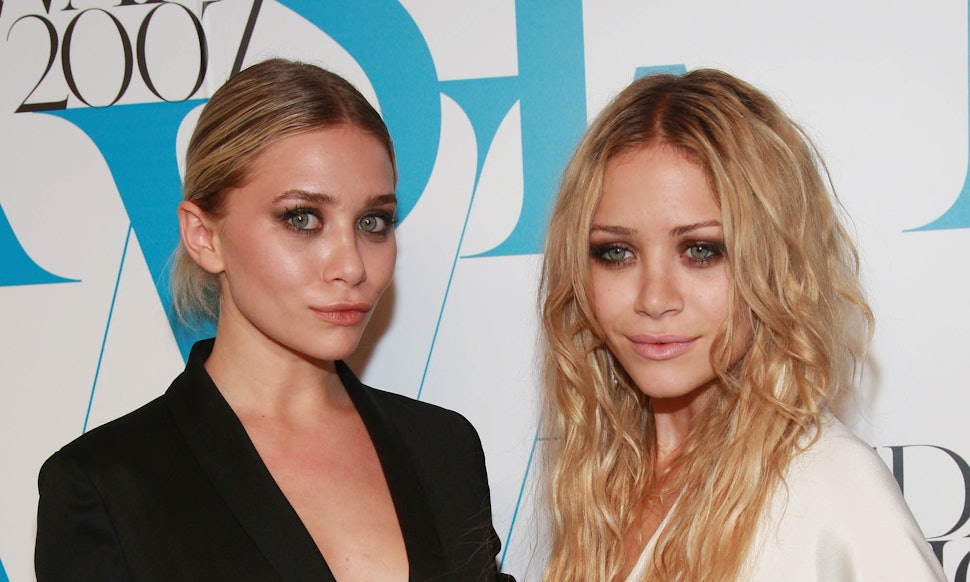 Evan Agostini/Getty Images Entertainment/Getty Images
As the Olsen twins turn 27 (!) and continue being their strange adult selves, let's take a look back at a time when, in the eyes of preteens everywhere, they could do no wrong — the period between 1992 and 2004, when they starred in more films, TV movies, and one-season shows than you can count. Here are the five main lessons we learned from watching Mary-Kate and Ashley make friends, meet boys, and solve any crime by dinnertime.
1

Food Fights Are AWESOME.
It's not that we didn't already know this, but watching Ashley accidentally trip a boy who's holding a bowl of mac and cheese, causing the dish to fly through the air in slow motion and land on Steve Guttenberg's head while Kirstie Alley laughs maniacally, drove the point home. It's hardly the best part of 1995's 'It Takes Two,' a 'Parent Trap' style film about two unrelated girls who meet and switch places, but it's certainly one of the highlights. It's a crazy scene that ends with the whole group washing off in a lake, the perfect finale to what looked to be the best dining hall meal EVER. [Image: Warner Bros.]
2

Matching Outfits Are Never Not a Good Idea.
For most of the early '00s, my style tips came directly from whatever I saw Mary-Kate and Ashley wearing in the latest issue of Teen People. This is unfortunate. Yet at the time, I thought the twins' style was worth emulating, and so did they, apparently, because they wore matching clothes in almost every movie, as well as at red carpet events, for years. And they — we — looked good doing it. Right? Right?! [Image: Dualstar]
3

Mary-Kate's Acting Was Award-Worthy.
In 2001, the Olsen twins starred in 'So Little Time,' a not-awful series canceled after one season. It's remembered for its four-month hiatus, change in networks, and the Daytime Emmy nomination that Mary-Kate earned for her role as "Riley." Yes, you read that right: An Olsen twin was nominated for an Emmy. I imagine Ashley was as shocked about Mary-Kate's nom as the rest of us. [Image: Fox Family/ABC Family}
4

Model UN Is Not All It's Cracked Up To Be.
In 2001, MK and Ash starred in 'Winning London,' a film about teenage girls who travel to London to attend an international Model United Nations competition. While abroad, they wander the city streets, meet royals, and find boyfriends, all in the span of a few days. 'Winning London' is the primary reason I joined my own school's Model UN team in ninth grade. Unfortunately, I soon learned that unlike what the Olsen twins led me to believe, Model UN consisted more of position papers and country quizzes than trips to Europe and shopping sprees. Who knew? [Image: Warner Bros.]
5

When You Turn 16, You'll Go On a Co-ed Road Trip to the Olympics In the Car Your Parents Just Bought You.
While none of the Olsen twins' movies are exactly believable, 'Getting There: Sweet 16 and Licensed to Drive' stretches the truth a little more than most. When the girls' characters turn 16, they are given a car, which they then use to go on a road trip to the Winter Olympics with a group of teenage boys. Somehow, this is all okay with their parents. I have a distinct memory of watching this on video with my own parents, and seeing them burst out laughing when the Olsens' parents handed their daughters the keys to the car. "Don't ever do anything they do," my mom told me. Oops. [Image: Warner Bros.]