Can These Even Be Called Just "Books"?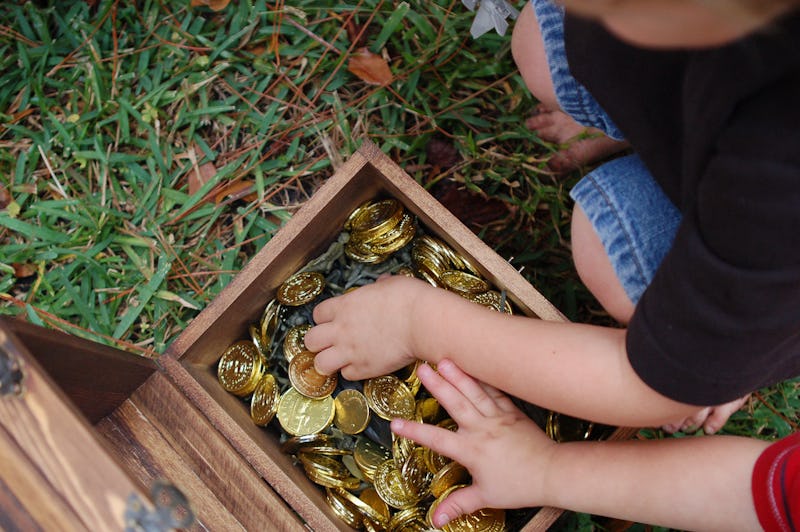 What do you get when you cross two writers, Google, and three MIT Ph.D graduates? A YA book that is about to start a real-life treasure hunt. James Frey, in conjunction with his co-author Nils Johnson-Shelton, created Endgame: The Calling (HarperCollins) as an armchair treasure hunt, a novel that would include secret codes and clues to the location of — wait for it — a key that will unlock a bulletproof glass case filled with $500,000 worth of gold coins.
Endgame: The Calling by James Fray, $7, Amazon
I'll pause while you run to go buy the book.
OK, now that your Goonies-style treasure mapping supplies are in stock, there's more. It's not going to be easy. Those three MIT Ph.Ds? They are the ones that designed the puzzle and hid the key, so I hope your math skills are top-notch. And Google Niantic built the accompanying mobile game. This is no nonsense.
And, yes, I have read the book, but no, I am not already halfway around the world digging in abandoned wells, because my copy did not have the final puzzle. No hints. No spoilers. It's up to you.
The story within Endgame: The Calling follows 12 teenagers who are all fighting to save their line of the human race in a game against each other. They're solving riddles, as well, and the one who finds the key will survive. The other 11 and the rest of their heritage lines will be extinct. So, yes, their stakes are higher than yours are.
The teenagers' story is a page-turner in itself, so just make sure you don't pass by those clues too quickly.
Frey isn't the first writer to test the bounds of what readers consider a novel. In the adult world, we have loads of experimental fiction from people like Shaun Tan, Italo Calvino, Ali Smith, and others. In YA, it may be more rare, but these six authors are stepping up to the plate with some novel (I had to) takes on creating books.
Masquerade by Kit Williams
Masquerade by Kit Williams, $3, Amazon
Masquerade, James Frey says in the introduction to Endgame: The Calling, is the book that inspired him to write this kind of puzzle-within-a-book after his mother bought it for him. The lesson, as always, is read to your kids.
The book, through clues in its illustrations, sent kids on this massive hunt for a golden rabbit that the author hit somewhere in Britain. It essentially became the definition of "armchair treasure hunts," which followed in its footsteps.
Chopsticks by Jessica Anthony and Rodrigo Corral
Chopsticks by Jessica Anthony, $9, Amazon
Chopsticks was created by an incredibly inventive duo of author and illustrator. And don't let its breezy young-love cover trick you; what's inside is edgy and creepy as all hell. Glory and Frank are two star-crossed lovers torn apart, but as this undercurrent of madness comes to the forefront, the book itself explodes with graphic images and collages, and they're only heightened by the interactive components that come alongside the novel, which all together make you wonder if you ever really understood what was happening.
While Chopsticks never flew off the shelves Hunger Games-style, it has a loyal cult-like following, and it may just have tested more authors to push the boundaries of what they thought they could do in the confines of a YA novel.
Fade to Blue by Sean Beaudoin
Fade to Blue by Sean Beaudoin, $9, Amazon
I'll be honest with you: If you're looking for something to just pick up and read during commercials of The Mindy Project and put back down again, Fade to Blue isn't the one for you. The book requires some investment on your part, but if you do put the time in, it will be worth it.
The plot of this graphic is so intensely complicated that it will twist your brain into Navy-worthy knots and you'll be partly incredibly frustrated and partly incredibly impressed, but it's also so scary at times that you'll only put it down if you need to turn all the lights on all over your house.
If you can handle things like chapters titled Chapter None and nonlinear progression, grab this one.
After by Anna Todd
After is a wildly experimental YA project that is not confined to a front and back cover. The novel works similarly to a TV series, and it has the after-effects of being incredibly social and informed by its readers as a result. You see, After was entirely written online via Wattpad, and readers would get alerts when a new chapter was available for them to read on their iPads, phones, or sitting on their laptop.
As chapter after chapter were released, readers were allowed to comment on the text and even message the author directly with their thoughts. While this is a noble effort to keep your readers "in on it," comment sections are no place for fainthearted and I can't help but think that maybe multiple choice questions would have kept some of the crazy away. You know, fewer mentions of the C-word and wORds SpELLed likE THis.
But hey, a billion reads isn't too shabby, huh?
The Sixties Project by Deborah Wiles
Countdown by Deborah Wiles, $9, Amazon
The Sixties Series, starting with Countdown, has author Deborah Wiles playing historian as well as fiction author, launching the term "documentary novel." Each book contains archival material from the time period, like scraps of paper with song lyrics, newspaper articles, old-fashioned ads, and photographs, as we follow along on a fictional story set in the 1960s.
When experimenting, it helps that you're as incredible and passionate a writer as Wiles. Countdown won all kinds of critical acclaim and awards, and reader reception was overwhelming, fueling its two sequels.
Girl Heart Boy series by Ali Cronin
Girl Heart Boy: No Such Thing As Forever by Ali Cronin, $30, Amazon
With the "transmedia" series Girl Heart Boy (Girl He<3rt Boy? Shouldn't it have an -S at the end of Heart?), Penguin launched a video blog for the protagonist to talk about love, sex, and relationships, to accompany and enhance the story.
The vlog then asks readers to weigh in on some of the issues broached in the book: Does a lack of experience mean you're a loser or simply that you have standards? Not many of the YouTube comments at all answered this question, so it's not clear how successful this type of outreach was. And some people just had to be turned off by the character overlooking gay and bi relationships ("I know, girls girls girls, on the boys' part, obviously") and the use of the world "sexploration" under any circumstances ever.
It's not that these issues shouldn't be discussed among young women, and kudos for that, it's just that Girl Heart Boy never really ended up being the vehicle to do that.
Image: whiteafrican/flickr; Sage Ross/flickr; Giphy