A Facial Brush That's Actually Kinda Affordable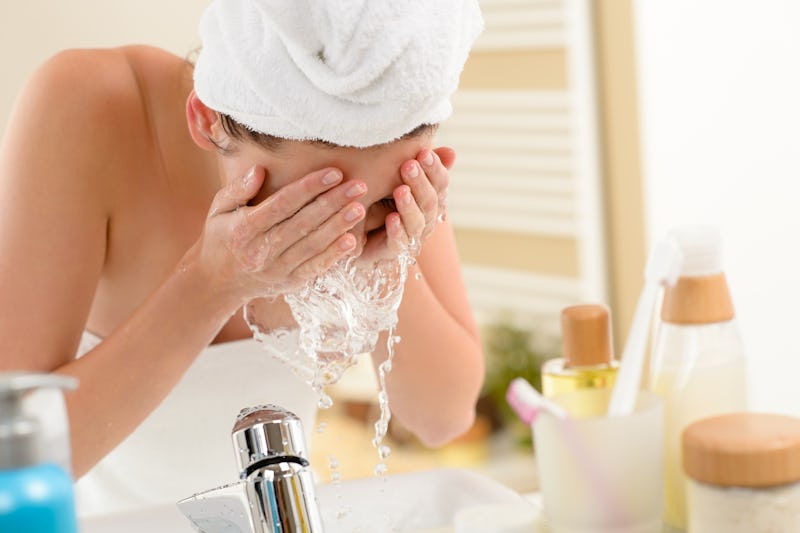 To read through any modern beauty magazine is to be persistently bombarded with images, expert advice, and advertisements which declare you're not cleansing your face thoroughly enough unless you have a professional-grade exfoliant or cleansing brush within your skin care arsenal. To these assertions I say, "Fair enough," but what happens when one's salary doesn't accommodate all of the gadgetry apparently needed for perfect skin? The newly introduced Instrumental Beauty brand must have had the same conundrum in mind when they created this line of affordable skin care devices, including a Sonic Facial Brush, which utilizes similar technology to the Clarisonic but only costs $80.
I happen to adore the idea of a device that scrubs away impurities without eating into my food allowance. But after years of experimenting with so-called "skin miracles" and encountering mixed results, I'm also cautious when it comes to new products. Thus, I decided to give Instrumental Beauty's Sonic Facial Brush a go in hopes that it would restore a little luster and remove the detritus with which New York City loves to infuse my skin.
The brush calls for a quick and easy three minute rotation across your face, during which you can pick from two speed settings: a lower speed for a lighter cleanse (or sensitive skin), or a higher speed for days on which your skin needs a vigorous exfoliation. After dampening my face and depositing a pea-sized amount of cleanser onto the brush, I went for ten seconds of cleansing per cheek and twenty for my chin and forehead.
I'll preface my conclusion by admitting that my sensitive skin has been exposed to more than its fair share of incredibly abrasive scrubs and exfoliants which left their mark in redness, dry patches, and irritation. I have the unique gift of a combination complexion which reacts poorly to potent ingredient cocktails. However, I found that pairing the Sonic Facial Brush with a simple foaming cleanser left my face softer and brighter after several uses. Even on its higher setting, the brush didn't feel in the least caustic, and I was left with the sense that my skin had received a thorough detox from urban exposure. In fact, my face felt so much silkier that I had to stop myself from touching all up on it, lest I undo the positive effects of the process.
While I wouldn't suggest using the brush on open skin or particularly angry breakouts, it is an ideal device for anyone with product-sensitive or oily skin who wants to step up their skin care routine without tapping into their life savings. As for the brush's cost-per-use evaluation, $80 for a brush and two cleansing heads is a bargain compared to the Clarisonic; at $99 for the basic Mia I and $27 per replacement head, the Clarisonic provides a more buzz-worthy name, but a significantly steeper financial commitment than Instrumental Beauty's Sonic Facial Brush. That is to say nothing of the Clarisonic Plus, which runs for $225 a pop. I can't speak to the mechanical minutiae and differences between the two brushes (we here at Bustle are still pretty into the Clarisonic), but I was quite impressed with the effectiveness of Instrumental Beauty's Brush, especially considering its bargain price.
The Instrumental Beauty Sonic Facial Brush in addition to the line's other products can be found in select drugstores beginning in October, and on InstrumentalBeauty.com starting on November 1.
Images: CandyBox Images/Fotolia; Courtesy of Instrumental Beauty