Why Jasmine Oil Is Worth The Splurge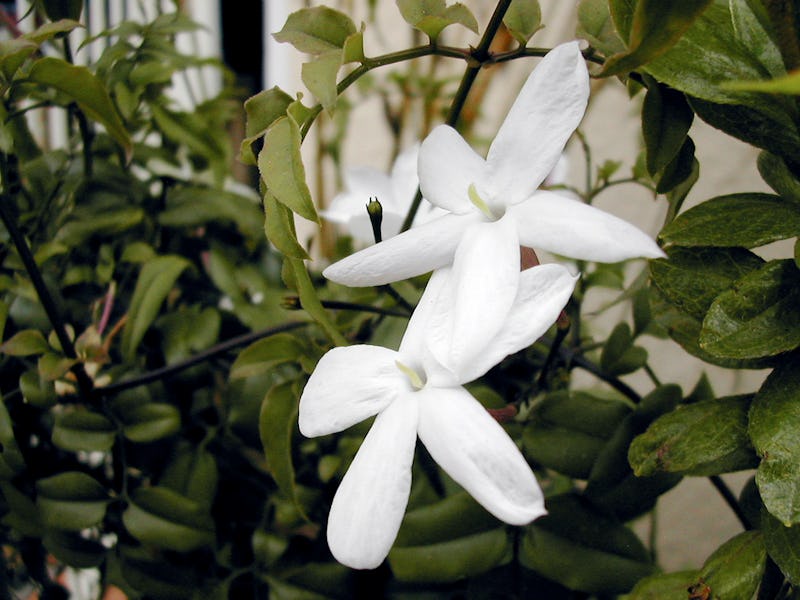 Every now and again, I need to take a stern look at lavish expenses and evaluate their importance. Typically, I zero in on monthly subscriptions to online video-streaming and my grocery list. A few months ago, the culprit was my pricey jasmine pearl tea; I begrudgingly handed over several twenties for less than a pound of tea and decided to really evaluate my addictions. I'm certainly not about to rid myself of jasmine though because not only is it incredibly delicious, it's a natural antidepressant and sedative. As much as I love other teas, jasmine is the flower that literally can calm me into a cocoon of happiness and warmth that lulls me to sleep. Instead of trying to ditch my essential tea, I incorporated this exotic essential oil into my beauty routine — and my face is lovin' it!
Jasmine is one of the few essential oils that doesn't need to be diluted. You can apply it neat to your skin, which also means that this oil is great for all skin types. Jasmine flowers are picked at night when the aroma is at its most potent and it takes about 1,000lbs of flowers to make 1lb of oil — that's why the price can be steeper than other varieties. Unlike many other oils though, jasmine is a cicatrisant which helps form scar tissue, regenerate cells, and shed rough and dead skin cells.
It definitely makes it easier to fork over my hard-earned money when I think about all the benzoic acid in jasmine oil. Benzoic acid is used in many OTC acne treatments because of its keen ability to prevent infection. This makes jasmine a great natural aftershave for anyone that suffers from razor burn or ingrown hairs that can easily get infected.
Here are just a few recipes you can make with jasmine oil, to fuel your obsession.
Jasmine & Green Tea Cleanser
This facial cleanser is based off numerous OTC products, but without any extra additives. It's great for dry skin, as well as when your face is looking a little dull from a fall flu. It's packed with anti-oxidants, antibacterial, and anti-microbial properties that'll make dull skin glow. Just take chilled, brewed green tea and add a few drops of lavender essential oil and raw honey (or castile soap) and apply on make-up free skin. Massage into your pores and rinse well.
Jasmine & Rose Water Make-up Remover
I've always preferred witch hazel as a make-up remover because of the natural astringent properties. Recently, however, black eyeliner is back in my life and witch hazel just doesn't vibe with your eye balls. Add a few drops of jasmine water to your rose water and your make-up will come off devoid of pain and irritation. This is by far my fave makeup remover right now.
Jasmine & Coconut Tattoo Ointment
The only fear I have about getting ink is the fade; I treat my tattoos like newborns, constantly cooing, moisturizing, and bragging about them, but no one is exempt from having tattoo color fade eventually. You don't want to smother your ink, but you also want to keep a strong enough emollient to keep touch-ups at least 10 years away. Since jasmine is ultra healing, nourishing, and relieves pain, it's an excellent addition in your tattoo aftercare. Add coconut oil to keep the color close and speed up the healing process of your tattoo.
Image: framboise, Varchar N/Flickr; Kristin Collins Jackson; Gazelle SkullTattoo by Minka Sicklinger