The Newest 'Scandal' Beau Isn't So New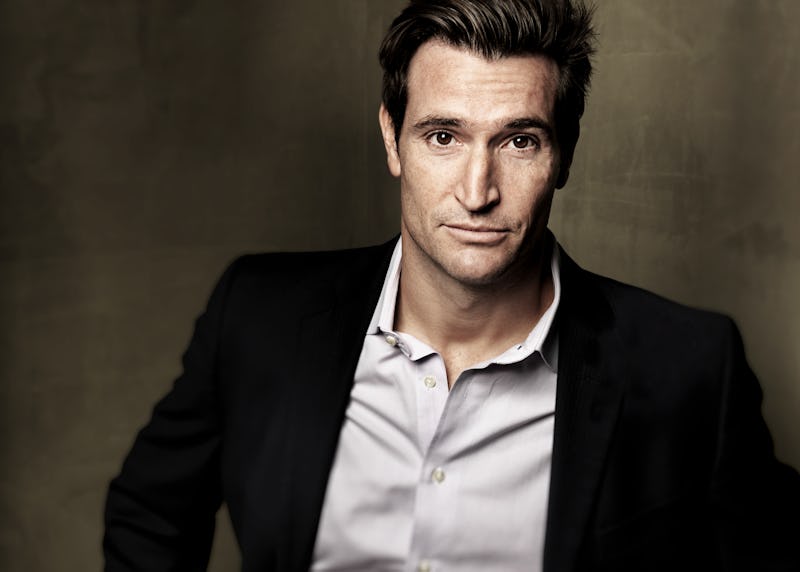 Lust is back on Scandal in a big big way — not that Season 4 has been completely bare of steamy moments. That scene between Olivia and Jake ruffled a few feathers in my household, but we haven't really gotten the big dose of passion we're used to on ABC hit series. All that is about to change as this might be the first week I'm ready to shout "TGIT." Jake and Olivia might have had the best steamy moment so far, but my money for the winner this week is on Cyrus and the prostitute who appears to be his new... complicated bedroom friend Michael, played by Teen Wolf actor Matthew Del Negro.And if you feel like you've seen the actor who plays Scandal's new gentleman of the night, you are spot on, my friend. Del Negro has been consistently working on the small screen for more than a decade starting with a hell of a good character on HBO's hit series The Sopranos alongside Edie Falco and the late great James Gandolfini. But even if you don't have cable, there's bound to be a show you watch somewhere that has prominently featured Del Negro. It's inevitable. And in order to quell that overwhelming desire to find out which of your beloved shows upon which Del Negro has appeared, I've made a tally of his most iconic roles to date. You're welcome.
Brian Cammarata on The Sopranos
In one of his first gigs ever, Del Negro nabbed the role of Brian Cammarata, Carmela's financial advisor and cousin who helped her plan her estate. Tony and Brian later became friends and eventually became a part of the family. He ended up buying Carmela's house in Season 6 with his pregnant wife.
Nick Hurley on United States of Tara
Nick was the boyfriend of Charmaine, Tara's less personality heavy sister. The couples grows closer and closer together rather quickly, leading to a wedding proposal and date all set and ready to go. Nick stays with Charmaine even after finding out that their baby is not his, but he reaches his ending point when Tara shows up to their wedding in one of her alter egos.
Agent Rafael McCall from Teen Wolf
Del Negro showed up on Season 3 and Season 4 of the hit MTV series where he played Scott McCall's estranged father. Rafael arrives to Beacon Hills to investigate the many, many (almost too many) murders and strange occurrences happening in the town and to investigate the town sheriff who also happens to be Scott's best friend's dad. Trying to get your son's best friend's father kicked out of his job is the best way to start a reconciliation. But soon Rafael and Scott find a way to grow closer.
Bram Howard from The West Wing
By Season 6 and 7 of Aaron Sorkin's longest running (and arguably best) series, the plot lines were starting to dwindle as were the viewers. But Del Negro did some great work as Bram Howard, a member of the Santos/McGarry presidential campaign, and later as a White House staff member. Spoiler alert if you're planning to watch the series. It's totally worth it by the way.
Jacob Pollock on Mistresses
In the ABC soapy series about four women getting it on whenever they want, Del Negro popped up as the friendly psychiatrist partner to Yunjin Kim's Karen. When Karen starts having a super creepy relationship with the son of her former patient and lover, Matthew realizes something is wrong with his friend and gets involved with the depositions involving the former patient's death, which Karen caused. The show is all kinds of messed up but is such soapy good drama. Later on in the series, Matthew's character Jacob starts to fall for Karen but the romance never works out as he gets a job opportunity in Boston and asks Karen to come with him but she rejects the proposal. Jacob leaves town alone.
It seems obvious that Del Negro's male prostitute Michael is bound to stir up some trouble and some pent up sexual energy for Cyrus. But the biggest problem will be what Michael wants in return for giving Cy some good time lovin'. Should we be worried that blackmail is Michael's plan? All I know is that Cy needs to watch his step and think about what sleeping with Michael could mean for his future life and sanity.
Images: Peter Konerko; jamandstuff (2), teen-wolf/Tumblr