The First 'Tomorrowland' Teaser Is Here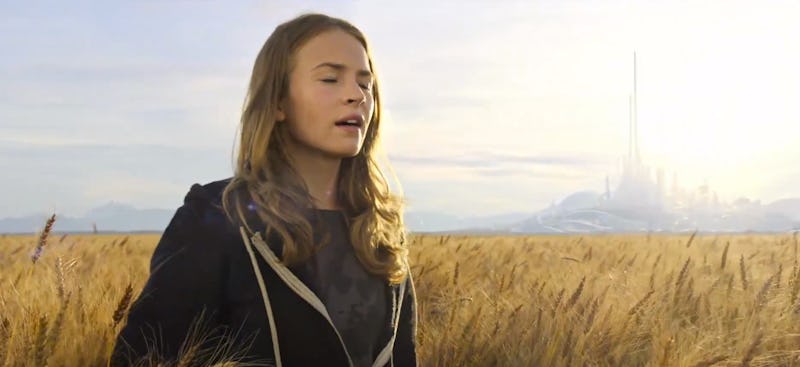 New York Comic-Con is officially underway, which means that beautiful little tidbits from the con will be streaming towards us. Bless. Thursday marked the release of the first teaser trailer for Disney's Tomorrowland , with Britt Robertson as our central hero and George Clooney as the strange man guiding her through another dimension.
Tomorrowland, written by Brad Bird (The Incredibles) and Damon Lindelof (Lost, The Leftovers) and directed by Bird, stars Robertson, Clooney, and Hugh Laurie. The IMDb description lays out the concept:
Bound by a shared destiny, a teen bursting with scientific curiosity and a former boy-genius inventor embark on a mission to unearth the secrets of a place somewhere in time and space that exists in their collective memory.
The teaser brings us the discovery of that somewhere place — Tomorrowland, named after Disney theme parks' future-themed land — as Robertson's Casey Newton touches a magical pin upon being released from police custody. It's certainly the makings of an underdog hero, especially accompanied by the stirring setting-establishing monologue by Clooney's Frank Walker.
Tomorrowland is scheduled to hit theaters on May, 22 2015, and this has certainly piqued my interest in the project — so as far as teaser trailers go, this one's done its job.
Image: Disney