Proof They're One of the Cutest Couples Around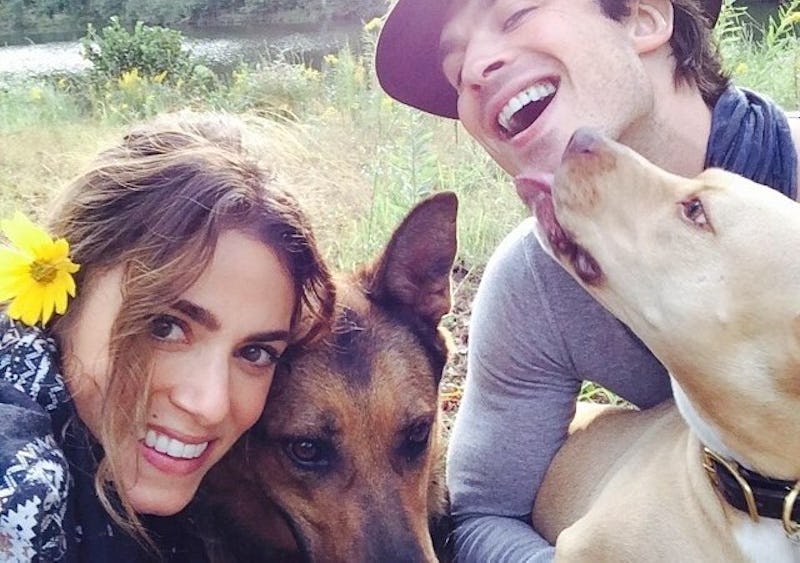 If you had suspicions before that Ian Somerhalder and Nikki Reed are giving Hollywood's most adorable couples like Diane Kruger and Joshua Jackson, or Kristen Bell and Dax Shepard a run for their money, good news: Here's some solid proof. In a new Instagram photo posted on his account, Ian Somerhalder praised his girlfriend Nikki Reed with a heartfelt caption that'll make even the coldest of hearts melt like you just watched Love Actually or something for the first time.
First, Somerhalder started out by talking about the other most adorable things in the photo, the two dogs he and Reed are hugging:
A day with 3 of the most beautiful ladies in the universe... Wow smiling is such a beautiful part of the human experience-I highly recommend it. Congrats to our little Neitczhe here-1 year ago today, to the minute, you brought 5 beautiful puppies into this world-thank you for your amazing contribution to all of our lives. However, welcome to the wonderful world of being spayed-The world does not need any more puppies, we kill millions and millions per year. These two beautiful creatures right here in this photo or highly intelligent, highly emotional and capable of more love than you can you can ever imagine. The ones that are in shelters are the same-let's adopt them.
Loves dogs and he's a romantic? Hearts are thawing...go on:
@iamnikkireed your recent work with Gilt benefiting the @aspca is truly [truly] extraordinary. Thank you for giving so much of your life and for being a strong voice for those whom can speak. My hat is off to you. You amaze me. Love, Ian
OK, heart is officially melted. These two are the cutest, whether they're helping dogs and doing charity work, or dropping over $1000 at an erotic sex shop in Toronto. Hollywood may have to crown a new most adorable couple very, very soon.
Images: iansomerhalder/Instagram