'Pretty Little Liars' Is Most-Tweeted About Show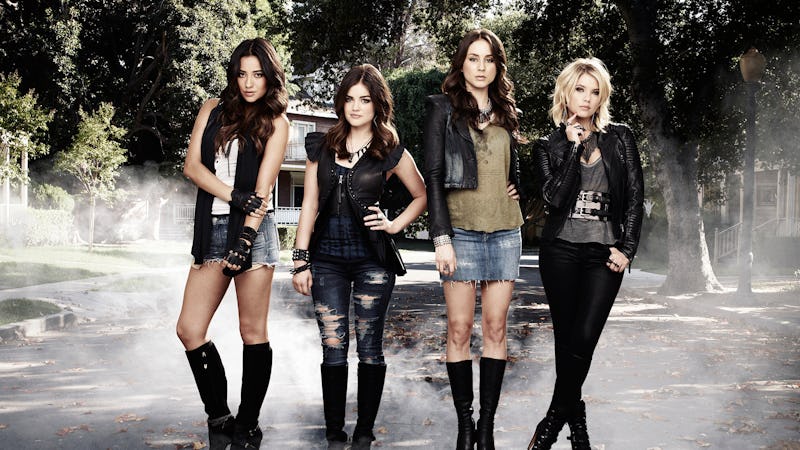 Big news for ABC Family's Pretty Little Liars, which just wrapped up the first half of its fourth season this week: According to Deadline, the explosive finale (which saw the reveal of titular antagonist "A") pulled in a record amount of tweets on Tuesday night, shattering social media records and claiming the spot of most-tweeted series TV episode ever. AKA, more people tweeted about Pretty Little Liars than they did Game of Thrones' Red Wedding episode, or any given episode of AMC's The Walking Dead. Shocking news is an understatement.
Tracking shows that the PLL midseason finale garnered a record 1.9 million tweets by 637,000 unique users, and at one point towards the end of the episode, the show was receiving 70,000 tweets per minute. Ratings for the episode were only at about 3.33 million viewers — nothing astounding, but not bad — which just further proves the theory that ratings don't necessarily stay consistent with the amount of attention and buzz a show receives. For some context: The GoT Red Wedding episode managed to pull in 5.22 million viewers (huge, considering HBO is a pay cable channel), and that episode only pulled in 241,000 tweets.
PLL's victory isn't actually shocking news if you've been following the show's Twitter stats over the past seasons. During the first quarter of 2013, the 10 episodes that aired between January and March of this year pulled in a record 11.7 million tweets total — which, averaged out, is about 1 million tweets an episode. The season four premiere pulled in 1.3 million tweets. No show comes even close to that type of Twitter power, and, considering it's an ABC Family teen soap, it's surprising and a big deal.
Now, the key question: Will PLL break its own record again when it returns for Season 4 part two?
[Image via ABC Family]