Thug Kitchen's NSFW Cookbook Is Finally Here!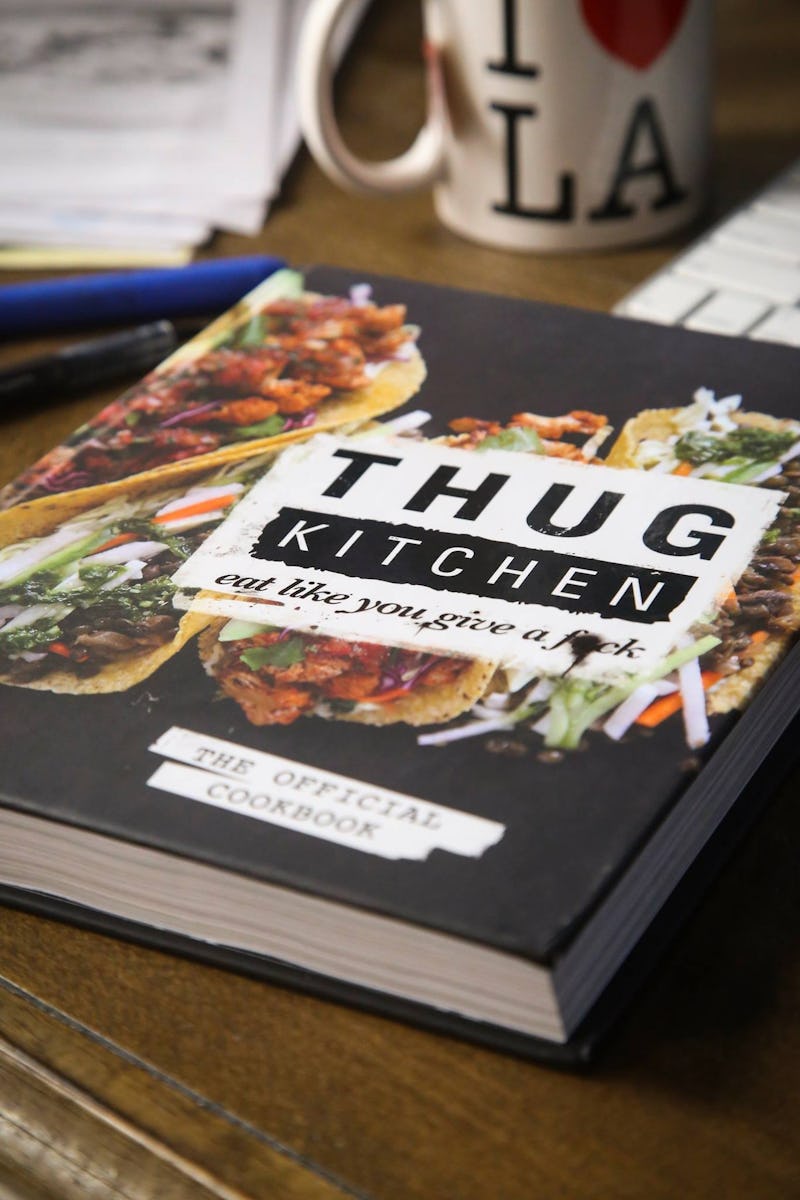 There's been a lot of Internet controversy surrounding this week's release of the Tumblr-turned-cookbook Thug Kitchen: Eat Like You Give a F*ck. Thug Kitchen's creators Michelle and Matt are vegan, and they're also white. Several online publications have harshly criticized the book, arguing that "their voice does not match the character they aim to evoke," leaving behind a bitter taste of misguided racism in the form of "nouveau blackface." Ouch.
Perhaps I'm playing devil's advocate here, but I'd like to reiterate that the point of this book is to get us to eat better and have a laugh while doing it. So instead of sheepishly subscribing to narrow-minded stereotypes, let's refocus on the primary intention of Thug Kitchen: Eat some goddamn vegetables and get healthy. Besides, since when is web profanity reserved for one race and one race only? As a Japanese speaking half-Jew white girl who's been writing the food blog Sh*t in a Bowl since 2008, I just can't appreciate being told who can and cannot drop f-bombs.
Not only does TK provide hundreds of nutrient-dense seasonal recipes from Sweet Potato Loaf to Roasted Tomato Soup, they also spell out kitchen basics for cooking novices — like herb identification and how to cook dried beans. Michelle and Matt go on to explain that a majority of store bought foods are loaded with obscene amounts of harmful refined sugars, so if we can spare two minutes to chop vegetables and herbs, we should. Those two minutes of chopping and laughing may add twenty years to your life. More eloquently stated,
"It's easier to saute kale with some garlic than it is to eat pizza bites without burning the fuck out of your tongue."
Food is fun, and we need to let ourselves have fun. Michelle and Matt clearly like to have a good time in the kitchen, and they want us to, too.
I had the privilege of meeting the profane pair during their official cookbook launch and signing at Brooklyn's very own Powerhouse Arena in DUMBO Monday night. The couple whipped up the TK idea during their eight year tenure at Whole Foods, bagging insanely expensive produce for people who don't know what it's like to be raised on frozen pizza rolls and latch key. For us common folk, roasted butternut squash just wasn't an option when Mom had to work two jobs just to put those pizza rolls in the freezer. Thankfully, Thug Kitchen comically reminds us that we don't need to repeat our parents' missteps. We can eat well while on a tight budget. Contrary to popular whitebread belief, Michelle and Matt weren't raised with silver spoons, and they didn't go to culinary school. They just opened their eyes, cut out the chemicals they were pumping through their bodies three times a day, and made a conscious decision to eat more plants. How can anyone hate on that?
So as a long-time Thug Kitchen follower and comedy enthusiast, I'd like to disregard the haters and spend my additional years spreading some antioxidant and fiber-rich love among my fellow Bustle readers. Here are my top three favorite TK recipes:
No. 1: Roasted Sriracha Cauliflower Bites with Peanut Dipping Sauce
Because chicken bones rudely impede on your snacking time, and Sriracha is a nectar of the gods. All you need is an oven, a fresh head of cauliflower, and a hot sauce-vinegar-tamari blend, and boom, you've got a healthy game day snack.
No. 2: Coconut Lime Rice with Red Beans and Mango
It's a one-pot wonder, and when you live in a 200-square-foot studio, girl, you've only got room for one pot. The coconut milk and cilantro add a tropical twist to your weekday brown rice bowl. TK even drops some basic knowledge, kindly offering to teach you how to properly cut a mango. Such sweet thugs.
No. 3: Pozole Rojo
Can't decide between chili or soup as your last meal when the world ends? In the words of Thug Kitchen, "fuck it have both." Pozole is a traditional Latin American stew that beautifully marries your typical oregano-cumin-garlic fall chili flavors with hominy — bloated corn kernels soaked in lime. You can find all three recipes plus many more in the hard cover book, available on Amazon for $14.99.
Michelle and Matt dedicated their first book to "everyone who wants to do better but gets lost in the bullshit." Sage advice indeed my friends. Now let's apply that to all social dealings in AND out of the kitchen. Frozen pizza rolls? You can do better. Unnecessary racism? You can do better.
Images: Thug Kitchen/Facebook (3); Thug Kitchen (2)