It's Time For That ABC Family Halloween Tradition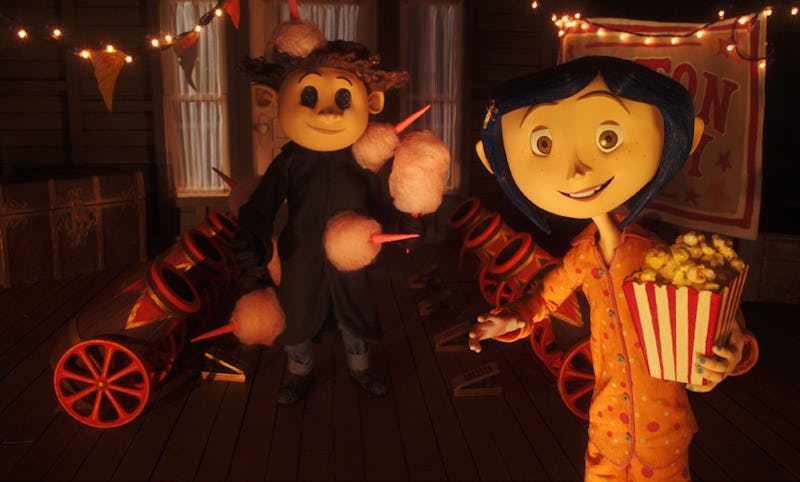 Halloween is the best, and not just because all of candy corn also comes in shape of pumpkins. (Though I firmly believe that pumpkin-shaped anything is awesome.) I'm a huge fan of scary movies, haunted houses, and general spooky fun, and Halloween is my thing. And, apparently, it's ABC Family's thing, too. The network has hosted the 13 Nights of Halloween programming block since 1998, when the network was Fox Family. Sixteen years later, the programming block is one of my favorite staples of Halloween — it's perfect for when you want to watch a lighter (but still spooky) movie to get you pumped for Oct. 31. And this year — like every year, because, umm, math — 13 Nights of Halloween begins on Oct. 19.
So what spooky fun will ABC Family deliver us this year during 13 Nights of Halloween? Expect the same kind of things that you see every year on the ABC Family block — lots of Tim Burton movies, goofy 80s flicks, and, of course, the Pretty Little Liars Halloween special, which, sadly, isn't an actual episode this year but a "fan appreciation" hour where the cast and crew answers burning questions from fans. (Hey, I'll take it.) But while there's a lot you may expect from 13 Nights of Halloween, it's not all the same song and dance. Here are four new things to look forward to on the 13 Nights of Halloween block, along with when you can tune into see them.
Coraline (2009)
When: Oct. 26 at 8 a.m. ET/PT
Why You Should Watch: This film isn't exactly a Halloween film per se, but it's the perfect film to watch when you want to get enveloped by a film's overall unsettling atmosphere. The stop motion film is beautiful and interesting but also very, very eerie. Or maybe don't be so basic that you watch The Nightmare Before Christmas again.
Teen Wolf (1985)
When: Oct. 23 at 12 a.m. ET/PT
Why You Should Watch: The 2011 television series of the same name is (very loosely) based on this 1985 Michael J. Fox flick, and while it's nowhere nearly as dark as the MTV series, it's still super fun. And I could watch this GIF of the teen wolf blowing out his wolf hair for hours.
Hocus Pocus (1993)
When: Oct. 25 at 10 p.m. ET/PT, Oct. 26 at 8 p.m. ET/PT
Why You Should Watch: Because it's the best Halloween movie (that's not a straight-up horror flick) ever made. And if you haven't watched it in a few years, you may be surprised to find that many of the jokes went waaaaay over your head. (Or did you already forget the "virgin candle" thing?)
Addams Family Values (1993)
When: Oct. 19 at 11 a.m. ET/PT, Oct. 25 at 8 p.m. ET/PT, Oct. 26 at 6 p.m. ET/PT, Oct. 29 at 9 p.m. ET/PT, Oct. 30 at 6:30 p.m. ET/PT
Why You Should Watch: I've always found Addams Family Values significantly funnier than the first film, and that might be because of this fantastic scene about the first Thanksgiving. It's the one movie on this list that leads you right into the next holiday!
Images: Focus Features; Giphy (4)