Gap Wants You To Complicate Their Clothes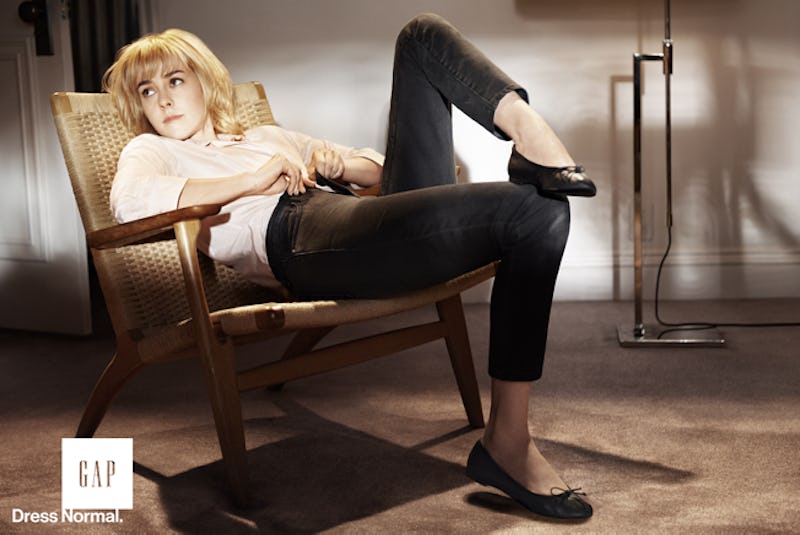 Over the years, Gap has occupied many identities: the "It" brand for basic blue jeans, a mainstay for back-to-school clothes, and the store that keeps trying to be more than its modern essentials. However, with the advent of Gap's new "Dress Normal" campaign, which urges consumers to "be your most authentic self", the brand is finally promoting what it does best: manufacturing simple clothing. As an addendum to the campaign, which features Elisabeth Moss and Zosia Mament among others, Gap labeled its wares as "Simple clothes for you to complicate".
Finally, a Gap campaign that truly encapsulates what the brand stands for. Despite Gap's most earnest efforts, consumers will not step into the brightly-lit, multi-story store to find a distressed pleather jacket, or metal-studded stilettos, or even a tee-shirt with a quirky slogan. Gap does, however, offer basics for its customers to play with. Throw on a patterned tweed jacket with Gap's faded boyfriend jeans and you have a statement ensemble. And one of the brand's plain white tees is the ideal addition to a leather skirt and a tuxedo jacket for a night out. In honor of Gap's new campaign, here are five ways to "complicate" Gap's basic clothing.
1. ADD A PAIR OF TOWERING PLATFORM STILETTOS
Nothing is more complicated than attempting to teeter from place to place in 6" platforms, after all. These Jeffrey Campbell Pointy Toe Ouzel Platform Pumps could not be less simple if they tried, from their sultry crimson shade to their 4 3/4 " heel. Try them with Gap's jeans and tousled locks for an unforgettable look.
2. THROW ON A SMART WATCH
Nothing says "complicated" quite like a watch even its proud owner doesn't know how to use. In a more practical sense, a smart watch does lend a certain techno-chic element to a simple ensemble. The LG G Watch for Select Android Devices is the ideal complement to a streamlined black outfit.
3. ADD A BRIGHT POP OF COLOR
If there's one sartorial arena that Gap seems particularly lacking in, it is bright, vibrantly colored wares. Thus, adding a pop of color to an otherwise neutral Gap ensemble is not only appropriately complicated, it also gives a drab ensemble a lively refresh. Cropped and colored a deep berry shade, this For Love & Lemons Knitz Bobcat Sweater is just the piece to spice up Gap basics.
4. CHOOSE A LEATHER ACCENT
Give a plain look a modern kick by pairing it with a leather accent or two. This American Apparel Vegan Leather T-Shirt adds a world of edge to the average ensemble for only $48.
5. PICK A PATTERNED PIECE
A patterned piece will wake up any dull outfit, especially when that piece includes an abstract floral motif. Zara's Printed Top With Shirt Collar gives just the right amount of impact to a simple pencil skirt or pants.
Images: Courtesy Brands