This Is Everything You Didn't Know You Wanted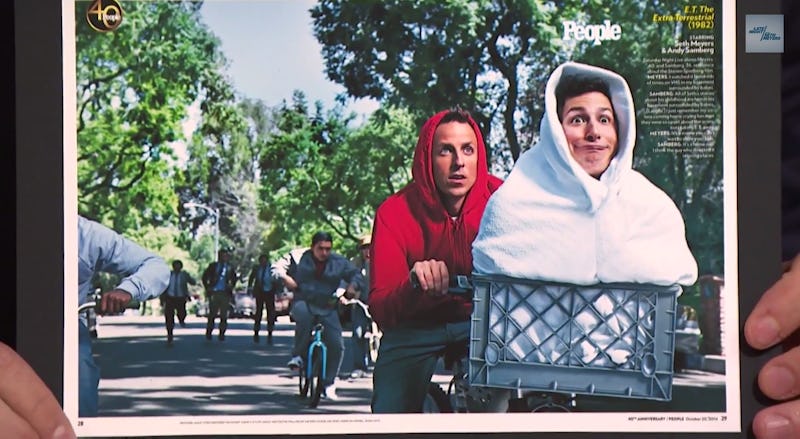 Let's take some time to look at some happy stuff, shall we? With all the sad, terrible news going on in the world these past few months, I think we all need a little pick-me-up. And, thankfully, Seth Meyers has us covered: In a new photo shoot for People Magazine, Seth Meyers and Andy Samberg flawlessly recreated a pivotal scene from 1982's E.T. The Extra-Terrestrial , with Meyers playing Elliott and Samberg, of course, playing E.T. in the best way possible. I mean, just look at that still up above and tell me it's not the best thing you've seen today.
Meyers debuted the photo on Late Night with Seth Meyers , explaining that he and Samberg were approached by the magazine to recreate a scene from Butch Cassidy and the Sundance Kid, but they said no in favor of doing an E.T.-inspired photo shoot instead. And it's a good thing they did, because the duo are basically perfect. Samberg is pulling off E.T. face perfectly, and Meyers looks — well, a bit older than Elliott, but it's OK because we know they have like a 30-year age difference.
And People's amazing behind-the-scenes look at the photo shoot, featuring Samberg doing the best E.T. voice since — well, E.T. itself.
I totally see it.
Image: NBC/YouTube, Universal Pictures