Alicia Has Some Skeletons In Her Closet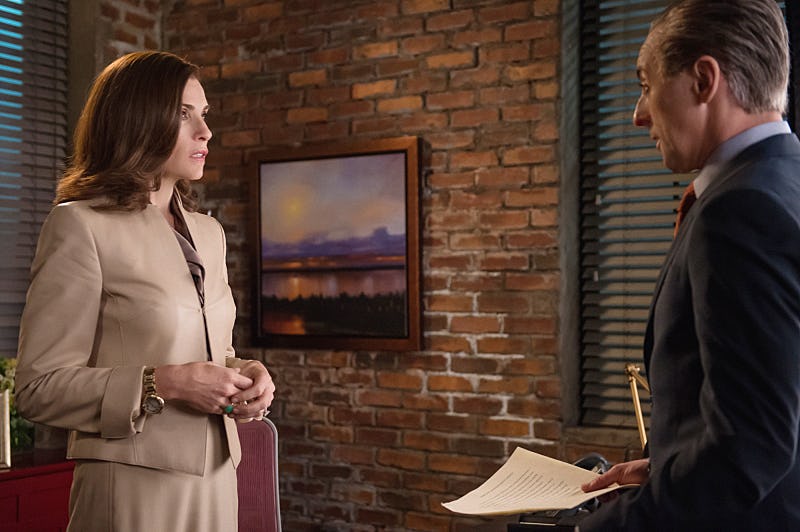 Alicia Florrick's campaign for state's attorney hasn't even officially begun, and she's already having to deal with some tough issues. On The Good Wife 's new episode, "Oppo Research," Alicia finds out that before leaving for college, her son, Zach, got his girlfriend pregnant. Later, Zach's girlfriend, Nisa, got an abortion — and Zach lied to Alicia about the entire situation. Ouch. As a parent, discovering that one of your children has been intentionally keeping the truth from you has to hurt. Still, even after having that bomb dropped on her, Alicia wants to continue hearing what Eli and her potential new campaign manager, Johnny Elfman, have dug up about the "skeletons in her closet." Yup, Alicia's really committed to this whole running for state's attorney thing!
Immediately after Eli reveals Zach's secret, Alicia rushes to her bedroom to call Peter. When Peter claims to know nothing about the abortion, she decides to give Zach a call — but she gets his voicemail. The two play phone tag for a bit, and when they're eventually able to connect, the way that Alicia treats Zach is uncharacteristically cold. Zach apologizes profusely for not being forthcoming with his mother — but his words don't seem to satisfy her. Alicia just can't seem to get over Zach's deception. (On the day of Nisa's abortion, Zach told Alicia that he was going to visit Boston College.)
Alicia tells Zach that she's running for state's attorney, and that when Nisa's abortion inevitably comes up during the campaign, he'll need to tell people that they sat down together and discussed the issue thoroughly (she thinks that this will make her look like a "better" parent). When Zach expresses surprise over Alicia's decision to run, she ends the call by saying, cooly, "Have fun in college, Zach." Whoa.
Zach has violated Alicia's trust, and obviously, she's had some pretty big problems with people lying to her in the past (Peter's numerous affairs, Kalinda, etc.). Frankly, I think it's going to be very difficult for Zach to get back in Alicia's good graces. It could be an awkward Thanksgiving at the Florrick household!
Images: Jeff Neumann/CBS; Craig Blankenhorn/CBS