TV Has Your Back This Halloween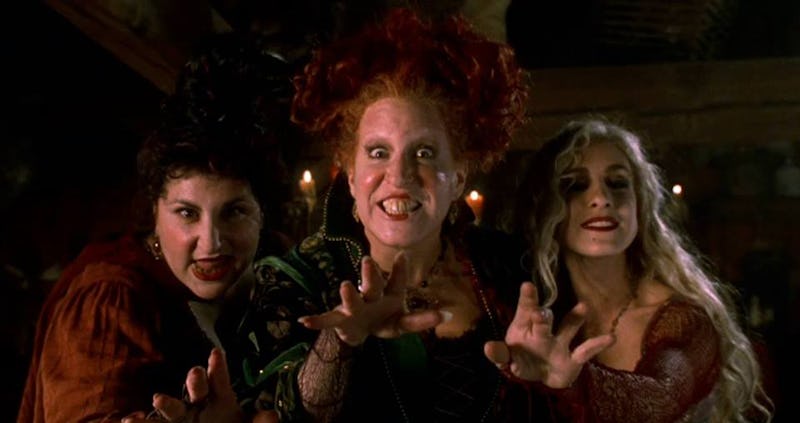 Getting into the Halloween spirit is easy — pick out a costume, snack on some candy corn, and watch a horror flick. While I can't help you with the first one, the other two are easy to do: Candy corn is currently on sale at most retailers, and Halloween-themed movies will be dominating your TV this month. No need to run out to the movie theater for an overpriced movie ticket and popcorn. SyFy, Turner Classic Movies, AMC, and ABC Family have month-long themed programming lined up, which includes classic horror movies, modern scary movies, and new premieres. Movies on TV this Halloween in 2014 include Hocus Pocus, Beetlejuice, Scary Movie, Cujo, Freddy vs. Jason, Children of the Corn, and more.
SyFy's Halloween movie marathon is already in progress as part of their "31 Days of Halloween." ABC Family will scare you with modern horror flicks as part of their "13 Nights of Halloween" from Oct. 19-31. Turner Classic Movies is featuring horror actress Janet Leigh movies on Wednesdays (she's their star of the month) and airing ghost-themed movies on Thursdays. AMC has a spooky slate of scary movies for their "Fearfest," airing Oct. 17-31. Here's a handy guide to which movies you shouldn't miss while getting into the holiday spirit — or perhaps you should, if you hate scary movies.
Classics
AMC will feature the good ol' scary movies that paved the way for today's frights: The Friday the 13th movies, the Halloween movies, Nightmare on Elm Street, The Omen, The Fog, Return to House on Haunted Hill, Cujo, Children of the Corn, and more. See the AMC's "Fearfest" schedule for dates and times.
TCM will also honor the classics by showing Alfred Hitchock's The Birds, The Haunting, The Curse of Frankenstein, The Village of the Damned, Poltergeist and more. Check out TCM's schedule to know when you should tune in and hide behind your pillow.
Modern Classics
ABC Family will be airing a great collection of '80s, ;90s and 2000s Halloween movies. Tim Burton's Beetlejuice, staring Michael Keaton, Winona Ryder, and Alec Baldwin, airs five times on ABC Family this month, including on Halloween night. Burton's Corpse Bride and The Nightmare Before Christmas will also have multiple showings on the channel, as well as Hocus Pocus, The Addams Family, and Addams Family Values. Check the ABC Family "13 Nights of Halloween" schedule for times and dates.
SyFy has multiple airings of Freddy vs. Jason, Hostel Part II, The Wolfman, Wes Craven Presents: Dracula II Ascension, Saw VII, and more. See SyFy's schedule to know when to watch or set your DVR.
New Premieres
SyFy is debuting three new frightening movies this month: Dark Haul, Dead Still, and Finders Keepers. For some wholesome Halloween fun, Hallmark Channel premieres a new movie in their Good Witch series, starring Catherine Bell. The Good Witch's Wonder airs on Oct. 25, after a marathon of the previous six movies in the series.
Who knows, a few of these might even become your new favorite go-to Halloween flicks.
Images: Walt Disney Pictures via 13NightsofHalloween/Facebook; Giphy (2)