Will Makenzie Leigh Join the 'Gotham' War?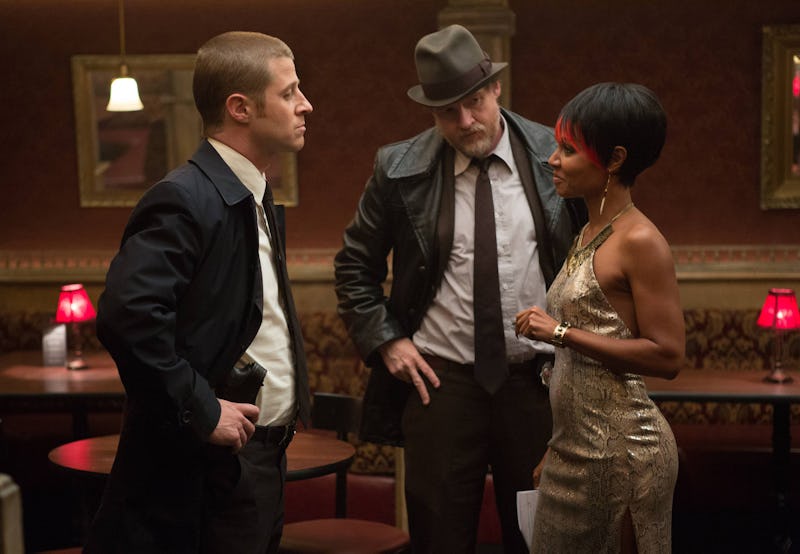 Fox's Gotham has clearly gotten the attention of viewers. From speculation of upcoming villains to predictions of future guest stars, we find ourselves dissecting previews to pick up any clues Fox might leave us for upcoming episodes. In the newly released Gotham preview for Monday night's episode "Arkham," we find that Fish Mooney is looking for "a weapon" of a woman when she auditions new singers in her night club, and we have to wonder why.
"Arkham" will throw us into the political ups and downs of the gritty city of Gotham and introduce us to Arkham, which many of you Batman fans might immediately associate with Arkham Asylum. Oswald Cobblepot, the "Penguin," has already warned James Gordon that there is a war coming, and he does so again in this preview. I have a feeling that Mooney is training her new club performers as vicious weapons for said war. And while only time will tell what exactly Mooney plans to do with these new hires, we can speculate on who the woman in the preview is. Actress Makenzie Leigh has been booked to play the character "Liza" in Monday night's episode, who Deadline described as "a wildchild." If you haven't already, check out the preview so you can scour it for even more clues.
"Do you want to be a woman with power?" Fish Mooney says. "I'm looking for a weapon." Yowza. Gotham just got real. Whether Makenzie Leigh's Liza will play this "weapon" isn't completely clear, but we do know that the upcoming episode will be politically cutthroat and that Fish Mooney likes to play dirty.
In another preview, entitled "At Least You Can Sing," we see Mooney auditioning another girl. She is left terribly unpleased. Mooney tells the girl to "pretend she's a boy" and seduce her. When the girl fails miserably, Mooney is left unenthused saying, "I ain't looking for no girl. I'm looking for a weapon." Take a look below.
With that in mind, it would make sense that Makenzie Leigh's character, Liz, the "wild child" would fit the description Fish Mooney is looking for. Because what's more valuable in a game of war within the city than a wild card?
This episode also teases some big changes for other characters in the show, take Cobblepot for example. He receives a promotion from dishwasher to restaurant manager. Way to climb that ladder, Penguin. Amirite?? The ante is definitely up as he gains more power and the trust of his superiors, which may prove a problem for his rival and ex-boss, Fish Mooney, who is definitely gearing up to fire back.
Whether Mooney will use Leigh's character, Liz, for evil in Monday's night episode, we can't be sure — at least until the episode airs at 8 p.m.and hopefully gives some of the answers we're looking for.
Images: Jessica Miglio/Fox; Giphy