Did Stevie Nicks Invent The Selfie?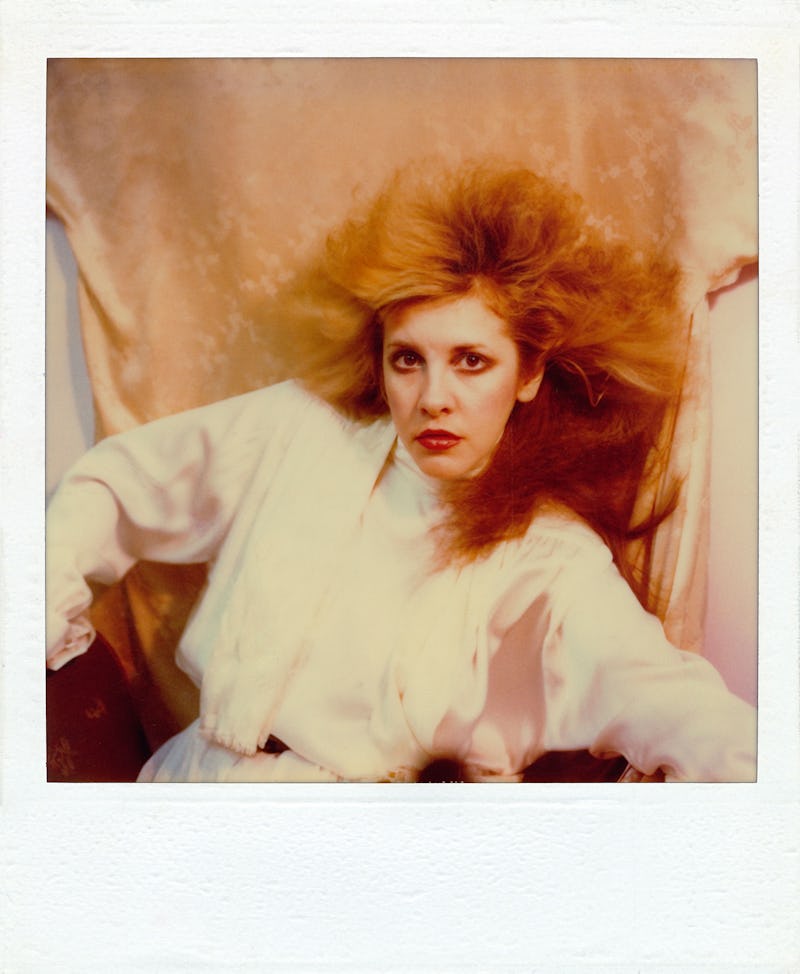 Three decades ago, rock legend Stevie Nicks was crowned the Reigning Queen of Rock and Roll. But now, she can add another royal title to her resume: the original Selfie Queen. Sorry, Kim K, but Stevie was taking selfies before you were even born — before they were even called selfies. There was no one singing "first, let me take a selfie," no Snapchat, no Instagram filters. There were no 8-megapixel iPhone cameras with face detection — there weren't even digital cameras. Nicks worked with an old school Polaroid, tripod, and a cable release to take carefully planned and designed self-portraits that are now being exhibited at the Morrison Hotel Gallery's locations in New York and Los Angeles through Halloween.
Beginning in the mid-seventies, as her career with Fleetwood Mac was taking off, Stevie Nicks began taking Polaroid self-portraits in her home and in hotel rooms while on tour around the world. "Some people don't sleep at night — I am one of those people," Nicks says in a release about the exhibit.
The unusual hours meant that Nicks herself served as both the artist and the muse. "These pictures were taken long after everyone had gone to bed — I would begin after midnight and go until 4 or 5 in the morning. I did everything — I was the stylist, the makeup artist, the furniture mover, the lighting director — it was my joy. I was the model."
Most of the Polaroids found their fate in empty shoeboxes where Nicks stored them away soon after they were developed, never thinking eyes other than hers would ever see them. Thirty or so years later, Nicks and producer Dave Stewart rediscovered the prints while recording her new solo album 24 Karat Gold: Songs From the Vault — new studio recordings of previously unreleased demos from 1975 to 1987.
This was before cameras automatically fixed the focus and exposure. Nicks would stick a Polaroid camera on a tripod and use a long shutter release cable to take the photos, sometimes taking as many as 12 shots before she found one she liked. The only reason she eventually stopped using Polaroids is because they became "almost impossible to use, because they all eventually broke down and we couldn't find film anywhere," Nicks tells the New York Times.
Stewart was impressed with the technical detail of the snapshots, and wanted to convince the private songstress into sharing them with the world.
"I was explaining to her that they weren't normal self-portraits. Even though they were on Polaroids, they were so good," Stewart tells Bustle. "I said I can blow these up and make museum prints. I think they'd be great in a big gallery. She went 'Really!?' and I said 'Yeah! I'll do it if you want' and she said okay."
Even blown up into 3-by-4 and 5-by-6 feet images, the images remain intimate and unique. In the exhibit's release, Morrison Hotel Gallery Peter Blachley explained, "Her choice of set and color, combined with a fascinating creative imagination, documents a very special time in the history of music."
The self-portraits put the rich history of the rock goddess's career on display, from breezy 1970s California, to the heyday of '80s rock. She's Rhiannon in her black chiffon and witchy headdresses, the Gold Dust Woman with wide, glassy eyes, a heartbreaking tell of her well-publicized cocaine addiction. The photos mirror the diversity and stark honesty of her music. Glimpses of the wild side of rock and roll with big '80s hair and loud makeup are contrasted against intensely intimate portraits of Nicks barefaced, quiet, vulnerable.
You can catch Nicks on tour with Fleetwood Mac, who just added 28 more North American tour dates for 2015. In the meantime, give her new album a spin and take some selfies in her honor.
Image: Stevie Nicks/Morrison Hotel Gallery (2), Morrison Hotel Gallery/Twitter (2), Women's Wear Daily/Twitter, Fleetwood Mac News/Twitter