'Marry Me' Has a 'Parks' Alum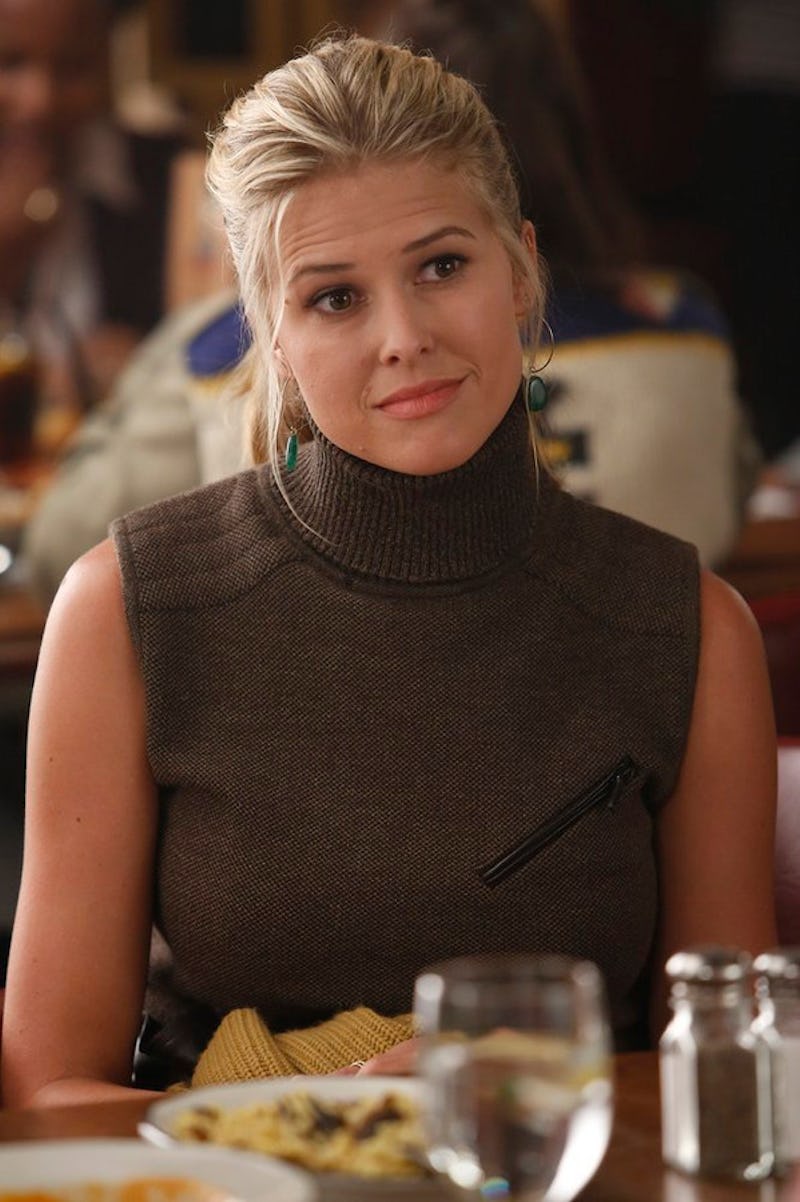 Sarah Wright Olsen, one of the stars of the soon-to-be very popular series Marry Me, looks like she was made to be on TV, with her bright blonde hair and and all-American features. So don't be surprised if the actress looks familiar. Wright Olsen has been popping up in movies and television for a decade now, often in romantic or sex comedies playing the "hot girl." But she's more than just a pretty face. With her big role on Marry Me, the former model could soon be one of the most recognizable comedic actresses in the business. So let's take a look back at Marry Me actress Sarah Wright Olsen's earlier parts, and figure out where she came from.
But before we get into all that, what about her shiny new role? Wright Olsen plays Dennah on Marry Me, the new show from Happy Endings creator David Caspe, which premieres October 14. If the phrase "new show from Happy Endings creator" doesn't make you excited, clearly your sense of humor is out of whack. Dennah is the best friend of the show's female lead, Annie (Casey Wilson). Wilson and Caspe are also married, which makes this entire project that much more adorable. Dennah, like a lot of "best friend" types, is quirky, funny, and a bit of a mess. But Caspe is known for subverting typical TV tropes, so expect more from her character than a tired cliché. Remember what he was able to do with Alex (Elisha Cuthbert), another wacky blonde from Happy Endings?
In her own words, Wright Olsen describes Marry Me's Dennah:
Where else have you seen Wright Olsen before? Check out this rundown of her most notable roles.
Parks and Recreation
The Kentucky native's biggest part to date was playing Jerry Gergich's daughter, Millicent, on Parks and Rec. Millicent appeared for five episodes in Season 3, 4, and 5. She was part of the ongoing joke that no one in Pawnee could believe how beautiful she (or her sisters) were, because Jerry (Jim O'Heir) is a pretty average looking guy. Millicent dated Chris Traeger (Rob Lowe), and Chris, in an attempt to be honest with Jerry, told his date's dad waaaay too much info about their love life. Awkward!
7th Heaven
All the way back in 2006, Wright Olsen landed a recurring guest role on everyone's favorite super dramatic Christian family show, 7th Heaven. She played Jane, a homeless youth who is taken in by the Camdens... who stays for two seasons. Of course, Jane ends up hooking up with a Camden (well, a Camden by adoption anyway). By the end of her run, she had married patriarch Eric's adopted brother George (don't worry, George was way younger than Eric). That was after she divorced her secret husband, though, obviously. Gosh, just thinking about this show's crazy plot lines and nonsensical relationship pairings brings back good times.
Mad Love
Mad Love was a 2011 CBS mid-season replacement, that was also a blatant How I Met Your Mother knockoff (seriously, the four main characters meet in a bar at the end of every episode). But it did feature our girl Wright Olsen, as Judy Greer's character's hot boss — whom Greer's boyfriend was very into. Mad Love also featured Jason Biggs and Sarah Chalke (of Scrubs), so the show definitely had comedic potential. Unfortunately, it was cancelled after just one season.
But hey, that left Wright Olsen open to do Marry Me just a few years later.
Images: Greg Gayne/NBC; Pinterest; The CW; CBS