'Blurred Lines' Is Close to Breaking a Huge Record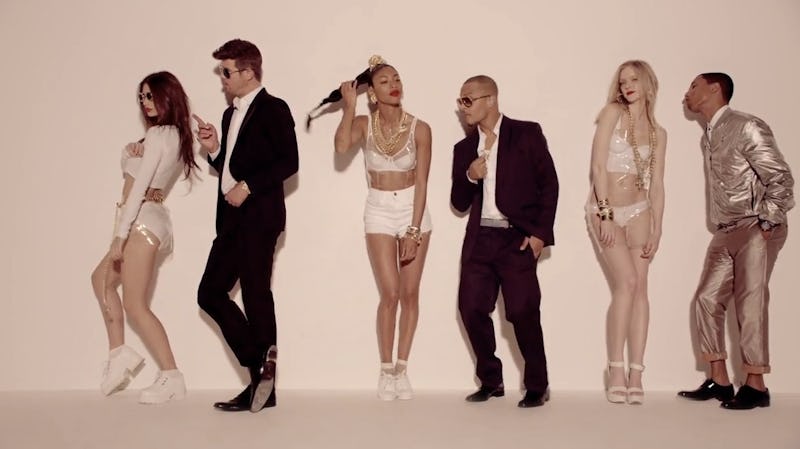 America, you've done it. Through sheer willpower and determination, you've pushed one of the worst songs of the summer, "Blurred Lines", into the running for MOST POPULAR SONG OF ALL TIME. That's right! According to Uproxx, Robin Thicke's Blurred Lines might break the record for most popular song of all time — meaning it would be above anything that Whitney Houston, Mariah Carey, Boyz II Men, Eminem, or Carlos Santana has ever released. You did that, everyone. This is your fault.
Seriously though, "Blurred Lines" has been the number one song on the Billboard Hot 100 charts for 12 weeks straight, which is the fourth longest any song has ever held that title. The only tracks ahead of "Blurred Lines" are: "The Boy Is Mine" by Brandy and Monica, "End of the Road" by Boyz II Men, "I Will Always Love You" by Whitney Houston, "I'll Make Love to You" by Boyz II Men, the "Macarena" song, "Candle in the Wind 1997" by Elton John, "We Belong Together" by Mariah Carey, "I Gotta Feeling" by the Black Eyed Peas, and finally, at the top, "One Sweet Day" by Mariah Carey and Boyz II Men. That's a lot of hits!
With four more weeks at the top, Thicke — who until recently was just known the singer son of the Growing Pains dad Alan Thicke — could be sharing the number one spot with music legends Mariah Carey and Boyz II Men. Oh, how life can still surprise.
But what is it about "Blurred Lines" that makes it so popular? Its music video with naked hot models running around contributed, sure, but what is it about the song that gives it so much staying power?
Personally, I'm going to go with the age old theory that history will always repeat itself: It's pretty much been confirmed by Robin Thicke's recent lawsuit that "Blurred Lines" is more or less a copy of Marvin Gaye's 1977 hit, "Got to Give it Up." That song topped the charts for a while in its day though, granted, not as long (probably because the music video didn't have naked models running around). Seeing as "Blurred Lines" has a similar sound, it makes sense that what worked once would work again.
Additionally — if you want to involve science here — Evolver.fm posted a study that revealed songs around 119.80 BPM tend to be hit songs, and, sure enough, "Blurred Lines" sits at 120 BPM.
So maybe there's a method behind the madness. But, madness it still is.