'True Blood' Catch-Up: Before Season 6 Premieres, Find Out What Happened in Season 5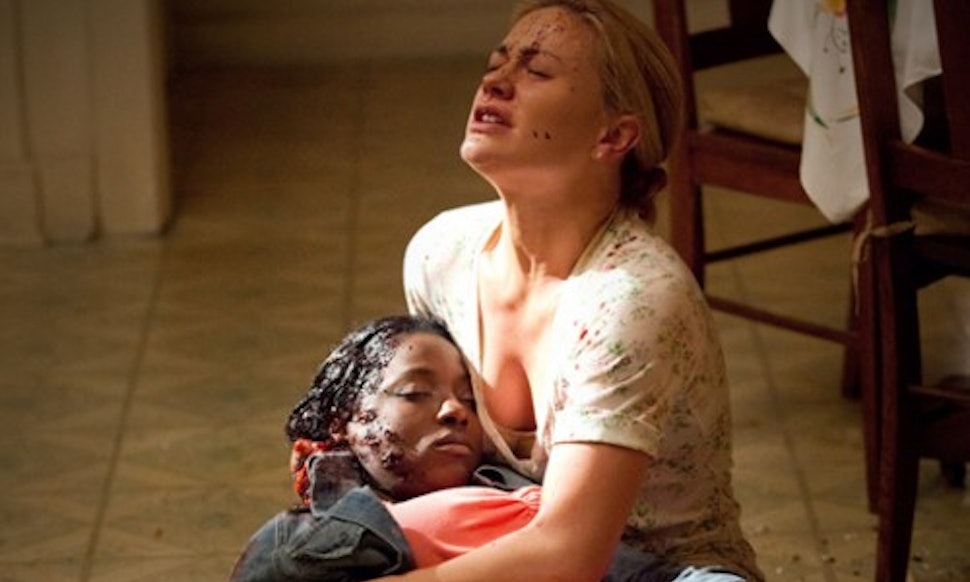 Speaking honestly, as someone who will watch every 'True Blood' episode ever until it's canceled, Season 5 was a total bummer. People got pissed off and stopped watching it, which I totally get, but luckily for you 'True Blood' ditchers, I watched every second with rapt attention. So here is a quick (well... not so quick) summary of all the stuff you missed during Season 5. You'll be well-prepared for Season 6. [Images: HBO]
Season 5 Recap
Speaking honestly, as someone who will watch every 'True Blood' episode ever until it's canceled, Season 5 was a total bummer. People got pissed off and stopped watching it, which I totally get, but luckily for you 'True Blood' ditchers, I watched every second with rapt attention. So here is a quick (well... not so quick) summary of all the stuff you missed during Season 5. You'll be well-prepared for Season 6. [Images: HBO]
Tara is Undead
First off, TARA IS NOW A VAMPIRE. An angry as fuck, lesbian for Pam vampire. She starts the season dead as a doornail, so Sookie makes this deal with Pam (because Lafayette is all like, you need to fix this bitch) that she'll talk to Eric and make him less angry at Pam if she just makes Tara a vamp. Too bad the rest of the world is like, Sookie you dumb ass ho, Tara has been tortured and imprisoned by vampires, why would you go and make her one?
Ohhh, Sookie
So Pam does it, and Tara, suprise suprise, wakes up and is like, "Sookie what the fuck, I hate you," and then she goes to work at Fangtasia and eventually makes out with Pam and saves her ass, all while ignoring Sookie, which of course makes her angsty and even more annoying than usual. Simultaneously, Marcus's crazy-ass pack has kidnapped Sam because they don't know Alcide killed Marcus, but also because they're complete idiots in general. Obviously, Alcide goes to get Sam and rescue him, and he is manly and beardy and beautiful as always. Aaaaand while all this has been going on, Bill and Eric have been arrested for the murder of Nan Flanagan, but Eric's "sister" rescues them and then she and Eric fuck like animals while the rest of us are like, what does sister mean to you people? This is so weird.
Mission: Get Russell Back
So Eric and Bill are taken to the Vampire Authority and are given the fifth degree. All sorts of unpleasant-looking torture goes on, but Eric and Bill bro it out and then realize they be spared if they can find Russell Edgington, who was dug out of the cement and is one crazy motherfucker. Meanwhile, Tara is flipping out about being a vampire and tries to kill herself, but Pam senses it and grabs her out of the tanning bed and freaks out on her for being so dumb. Also Jessica isn't as into Jason as he is into her, so she parties with some randomers, but then she defends him when Steve Newlin comes back as a political-yet-openly-gay vampire who casually is in love with Jason and wants him to be "his." Gross.
Freakin' Sanguinistas
Meanwhile, back at the Vampire Authority, there are some rumors about Sanguinistas, which are basically the born-again Christian version of vampires. They believe they are meant to regard humans as inconsequential bloodbags because they're the chosen ones, but little does Roman, the big cheese, know... THE CREEPY CHILD VAMP IS ONE and also Salome and Nora were kind of doing each other, but it seems like everyone fucks everyone in vampire land. Wouldn't you if all your undead friends were so damn sexy? Jason and Andy get taken to a fairy party that is hidden behind some magical fairy version of the invisibility cloak, but they get kicked out when Jason gets riled. Later, these fairies help Sookie and Jason figure out that their parents were killed by a vampire who wanted to eat Sookie. C'est la vie. Also Sam's shifter friends are murdered, because Sam never gets to have any joy (other than his SUPER HOT shifter girlfriend Luna, hay hay hay). Then Sam and Luna are shot at, but Emma escapes, so that cute lil baby werewolf goes to stay with her crackhead-lookin' grandma, but Luna escapes the hospital by changing into Sam, even though that makes her sick and unable to change back.
Poor Pam
Classic 'True Blood' though — just as Alcide and Sookie are about to make some sweet, sweet love, she pukes on him (she's a keeper) and then Eric and Bill are both there to force her to help them find Russell, because obviously an idiotic fairy waitress is going to be of huge help. Somewhere in there, Eric releases Pam, and she is super emo about it. Woe is Pam. Alcide is busy challenging J.D ( Marcus's father) and it turns out that (whoa, shit!) J.D was giving them all V to make them aggressive and addicted to... uh... his leadership.
Vampire Hallucinogens
Sookie uses her fairy magic to figure out where Russell is, but he is being ballerific and evil as always. Amidst all this shit, the Vampire Authority shows up to take him away, but when he is meant to be executed, he actually kills Roman, the head honcho at Vamp Authority, and then they all drink Lilith (the first Vampire's) blood, which appears to affect them like a double dose of LSD would affect normal people. They go absolutely apeshit on Bourbon Street, where Lilith appears to them. However, Godric appears to Eric (YES Eric, yes) and says he needs to help Nora because she has no idea how fucked up this whole Lilith thing is. It doesn't work at first, but eventually she gets the picture.
Good Ol' Bon Temps
Back in Bon Temps, it turns out Bud Dearborne, the old sheriff, is the one who was killing all the shifters with his gross mistress. He gets shot because he kidnapped Sookie. (If you watch this show, you know you should leave Sookie alone if you like being alive.) Emma, Luna's lil werechild, is kidnapped by Russell, and when Eric tries to escape, the Vampire Authority Bill betrays him. Everyone, meet Bill the COMPLETE ASSHOLE VAMPIRE. Russell and Steve Newlin get it on and starting just killing everyone in sight because why not?
Bill: Gentlemen-Turned-Zealot
Crazy religious Bill orders Jessica to change Jason, but she is not so into that idea. Plus, Sam and Luna have snuck into the Vamp Authority and have been caught, so Sam is sent off to be Bill's early morning munch. Wuh oh. Eric stomps on the relationship between the Vampire Authority and the US government by killing the official sent to deal with videos of Steve and Russell drinking the shit out of some college kids, then Russell glamours Jason into taking him to the fairy hideout, since he has such a permaboner for fairy blood and seeing the sun and whatnot.
SCARY GOD-BILL
In the finale, Eric kills Russell and saves the fairies, but he has to stop Nora from eating Sookie. Why the HELL does everyone and their mother want to eat Sookie? Andy has to deliver roughly a zillion fairy babies because he had sex with the fairy Maurella one time, and then she just ditches them because, a-DUH Andy, fairy babies are taken care of by their unwitting human fathers. Don't be an idiot. Luna shifts into Steve Newlin's body and then goes on live television and denounces the crimes of the Vampire Authority. Sookie and Eric go rescue Pam and Tara (cue make-out), but then when they go to get Bill, he's killed Salome through trickery (TRICKERY!) and he drinks the rest of Lilith's blood and becomes a scary, naked, blood-covered Daddy Vampire, so Sookie and Eric run the hell away.
EXCITEMENT!
GET PUMPED. THIS SEASON IS GONNA ROCK.