Celebrating the Little Things About YA Adaptation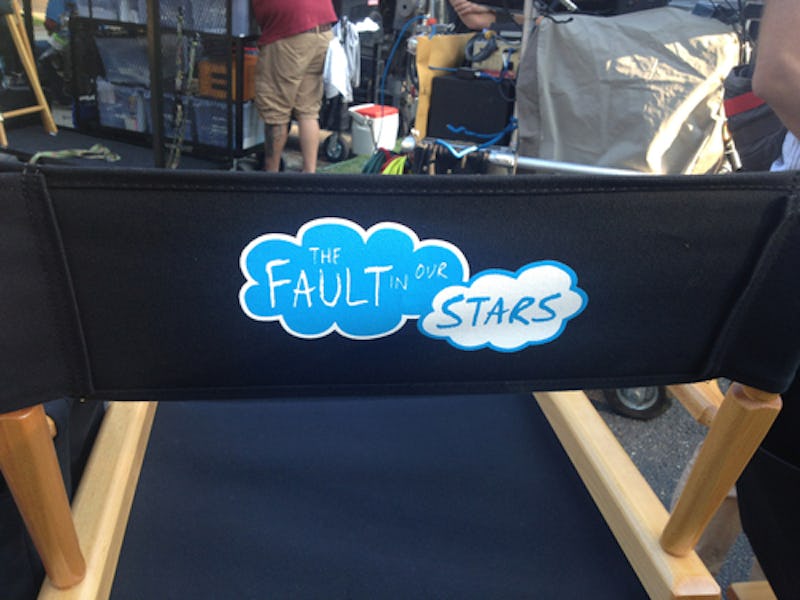 Young adult book-to-movie adaptations are not rare. In fact, these days, they're kind of freakishly common. From The Hunger Games, to Twilight, to the upcoming Divergent and the sadly underperforming Mortal Instruments: City of Bones , it seems half the headlines of entertainment news sites in the past few years have been occupied by the trials and tribulations of what were originally books written for teens.
It's so common a sight, in fact, that so much of what is written about these adaptations is in some way wrapped up in the image of middle-aged people in suits rolling in $100 bills and praying for box office success to posters of Robert Pattinson. The buzzword for the discussion of most of these movies is "franchise," but along the way we might have lost track of the little things that can make the process so cool in the first place. And that's where John Green comes in.
For many authors, the process of getting your book optioned for film is a stressful one. More often than not your book never makes it to the big screen, and the path whether it does or doesn't is often paved with bad rough drafts, uncooperative Hollywood executives (the aforementioned money-rollers), and false-starts. This was the experience John Green had when Hollywood came knocking for his books in the past.
This time, however, with his newest novel — the critically acclaimed and bestselling The Fault in Our Stars, which is the most charming book related to cancer you'll ever read — his luck seems to have turned around. He's been documenting the process online, and it's an intriguing look into the YA-to-movie process of which most people are only used to seeing the end product.
From his words and our own, we run down why you should be looking forward to The Fault in Our Stars as much as we are.
1. John Green Is a Badass and an Internet Phenomenon.
If you've heard of Green, it's probably from one of two things: His massive success as an author (he won a Printz Award for his debut novel Looking for Alaska, and has had multiple books on the New York Times bestseller list), or his ridiculously, impressively prolific Internet presence.
Alongside his career writing heart-wrenching and witty novels for teens, Green runs a vlog with his younger brother, Hank. It's called Vlogbrothers (you see what they did there?), and it's so insightful and hilarious and just plain fun and interesting that it's spawned a massive Internet following of its own. Their fans — it's more like a community they benevolently rule over — call themselves Nerdfighters, and if you haven't joined them yet you probably should, because their catchphrase is "Don't Forget to Be Awesome" and it's so great that President Obama even acknowledges its worthiness. If you haven't watched their videos, this one might turn you into an instant fan:
See, John Green is awesome. He's just a genuinely interesting person, and so far that's translated into pretty much everything he's been even tangentially involved in. Which leads us to...
2. The Fault in Our Stars Is Already a Pretty Widely Loved Novel.
The novel tells the story of Hazel Grace Lancaster (to be played by Shailene Woodley), a 16-year-old girl with terminal thyroid cancer, and her time with Augustus Waters (Ansel Elgort), a fellow teenager whom she meets at a cancerous teen support group her parents make her go to. It's a book about mortality, love, growing up, and what it means to be truly star-crossed. It's also genuinely witty.
I'll let the critics say the rest:
The Fault in Our Stars is the best novel — the smartest, most clever, most emotional-but-not-exploitive adult novel — you've read in a long, long time but somehow kids found out about it first and claimed it as their own. Which they have done, big time, and in astonishing numbers ... John Green doesn't write teenagers. He writes smart, funny, verbal, real people who happen to find themselves in young bodies. This is fortunate, because the young — the best of them, anyway — are brimming over with Thoughts and Ideals and Questions. They ... just ... care. Deeply. As we used to care before we grew up and found ourselves playing games that had more to do with Success and Money than Truth and Eternity.
It is a narrative without rainbows or flamingoes; there are no magical summer snowstorms ... He shows us true love — two teenagers helping and accepting each other through the most humiliating physical and emotional ordeals — and it is far more romantic than any sunset on the beach.
One doesn't like to throw around phrases like "instant classic" lightly, but I can see The Fault in Our Stars taking its place alongside Are You There God? It's Me, Margaret in the young-adult canon. Green's book is also a good example of why so many adult readers are turning to young-adult literature for the pleasures and consolations they used to get from conventional literary fiction.
It goes on and on. Basically: It's quality.
3. Green Himself Is Really Excited About This Movie.
I don't think you understand how important this last point is. Sit back a minute, and let me explain you a thing: John Green has been an author for years. A successful one, with offers from Hollywood for many of his other books. He's sold the rights, gone through the process, and for the most part he came out pretty publicly jaded about it all. This is a man who's online community rallies around a reminder to be awesome; when he publicly decries something, it's usually because it's decidedly otherwise.
The Fault in Our Stars movie, though? That he can't stop raving about.
I'm serious. John Green's been crowding my Tumblr, Twitter, and Facebook feeds (in the best way) with tales from The Fault in Our Stars Movie Extravaganza for months, from when Josh Boone (Stuck in Love) was announced as the director, to when Shailene Woodley was cast as Hazel. When he first read the script — which was written by Scott Neustadter and Michael H. Weber, the writers behind (500) Days of Summer — he posted on Tumblr, writing simply "I just read a really beautiful screenplay."
Now that the film's started principle photography, Green (who has a cameo in the film) has been posting photos and insights into what it's like to watch one's words transformed into a whole world for the big screen:
It's amazing how beautiful it all looks. Without getting into spoilers, the visual look of the movie—from the actors to the sets to the light—is very similar to a lot of what I imagined while writing, which creates a weird feeling that your imagination has actually become visible. This is a very strange experience; maybe analogous to hallucination?
My personal favorite behind-the-scenes documentation that Green's produced so far is his vlog from the set, where he talks to some of the actors and just generally revels in the experience:
He's also been sure to highlight the often-ignored fact that a movie doesn't just get made by the famous people we see at the awards shows: He's been featuring various other people working on the film on his Tumblr and Facebook.
It is amazing how many people are working on the movie, and how professional and organized they all are. There are like 100 people or something! It's all amazingly efficient, and yet … It's amazing how much work goes into every single shot. These people work 12+ hours per day, and shoot at most a few scenes per day.
Green's enthusiasm for the movie and the people working on it is infectious; what better endorsement can a film get than the teary-eyed adoration of the man who made the story so beloved in the first place?