What Song Plays In Taylor Swift's Diet Coke Ad?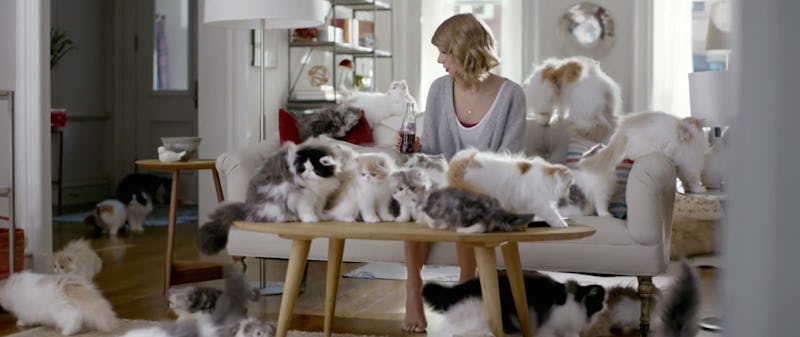 It's no secret that Taylor Swift's new ad for Diet Coke, appropriately titled "Kittens," is absolutely adorable. I mean, it features Swift, a bunch of cats, and a cameo from Swift's own kitten, Olivia Benson — what more could someone ask for? This is kind of advertising at its best. What is a secret, on the other hand, seems to be the track that's playing during the promo: Apart from the promise of it being featured on Swift's upcoming album 1989 and the audible lyrics, "And that's how it works / That's how you get the girl, girl," there's virtually no indication of what the song is. The tracklist for 1989 hasn't been officially released either, so that makes sleuthing for the title even more difficult.
Luckily, though, that doesn't mean it's impossible to figure what the song is before the album is officially released later this month. Swift has been holding listening sessions for a select few, and some very in-the-know fans have been referring to this song as "How You Get the Girl."
Though it's not official, of course — Swift's done a good job of keeping the track list under lock and key until the album's Oct. 27 release date — "How You Get the Girl" certainly seems like a title of a song from her, not to mention it's literally what we hear in the chorus during the promo.
I don't know about you guys, but I'm pretty sure Olivia Benson has the makings of a star.
Image: DietCoke/YouTube