This Fancy New Trampoline May Be Worth the Price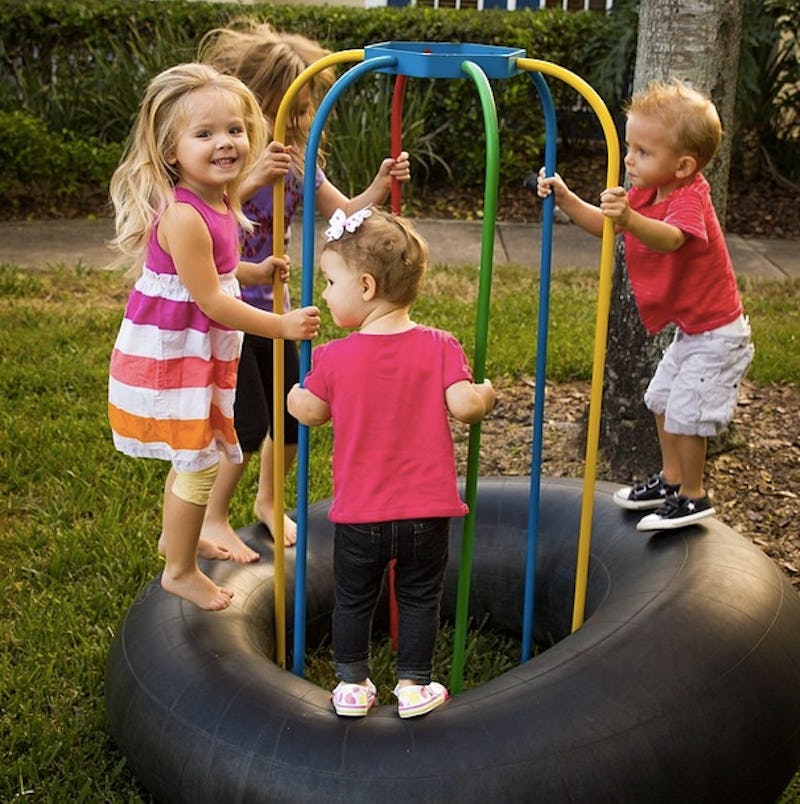 When I was growing up, my family had a trampoline — which is to say we had a bouncy death trap in our backyard. Legs through the springs, trampoline burn, poles to the face... it was a lot of pain for, reasonably, a lot of fun. Luckily for fans of painless fun, a pair of hopeful entrepreneurs are headed to Shark Tank on Friday night to tell the masses about their safer trampoline alternative: Jungle Jumparoo. When you hear a name like that, you kind of wonder who the target audience was with a word like "trampoline." Did times change or did people change to bring about this alliterative shift? (These are all of the existential questions about trampolines I have.)
The Jungle Jumparoo isn't just a trampoline, though. It's kind of like a small jungle gym with a giant intertube wrapped around the bottom; but I guess Jungle Jumping Tire didn't make it past marketing. The website declares climbing, swinging, and jumping to be the Jumparoo's main functions, which coincidentally, are all things I've been hoping to see Mr. Wonderful do on this season of Shark Tank.
According to the owners, Steve and Rachel McMurtney — who kind of look like the models that come in picture frames, which should serve them well on television — the Jungle Jumparoo was invented over 30 years ago, by a farmer trying to wear his kids out before bedtime. Honestly, the origin story on the Jumparoo website is a little confusing, so I'll be looking forward to some clarity on the actual invention come pitch time on Shark Tank. It's unclear if that farmer was related to the McMurtneys, or if Steve and Rachel both somehow found themselves enjoying Jungle Jumparoos as children, and wanted to make it into a business as adults. Either way, when they had children, they decided the world needed to know about the product that shaped their childhoods, and got to work in their garage (I hope they mention that, Mark loves garage stories), creating a fully realized brand to bring "a wild way to jump" to the masses.
Your kids won't know what hit 'em
Alright, this thing looks super fun. I particularly like the part when a grown woman bounces on the Jumparoo because it speaks to me on a personal level. And you can count on Robert getting down (up?) on that thing tonight.
Their marketing approach seems to be a common one in recent years — "exercise in disguise." Get those kids active, feed them vegetables, but don't tell them about it! But hey, if it keeps them active, then Jungle jump away my little friends. The Jumparoo looks to have major bounce potential, but also takes up less space and accommodates more bodies than a trampoline, with safety accessories disguised as just another fun part of the product.
You could go out and buy one right this second
There is nothing I eat up more on Shark Tank than when a humble family product comes in all, "We've sold a few... as in, $1 million in the last six months, suckas!" I don't know if that will be the case with Jungle Jumparoo, but my fingers are crossed considering all of the places these products are already available: Walmart, Brookstone, Sam's Club showcases, and of course, their own website.
And the way they've already got that website decked out with Shark Tank banners, updates, and discounts tells me they have a pretty good PR/Marketing head on their shoulders. You might need that discount too because...
It'll cost ya!
A piece of indoor/outdoor equipment like a Jungle Jumparoo doesn't come cheap. The regular price for the eponymous product is $399, but with the Shark Tank discount (which acutally seems to be a somewhat permanent pre-Shark Tank fixture), it's $299. The Mini Jumparoo for your littlest jumping beans has been discounted from $259 to $199.
Fun ain't cheap, but let's hope the Sharks aren't either.
Image: Jungle Jumparoo/Instagram