For Oscar Wilde's B-Day, 13 of His Best Zingers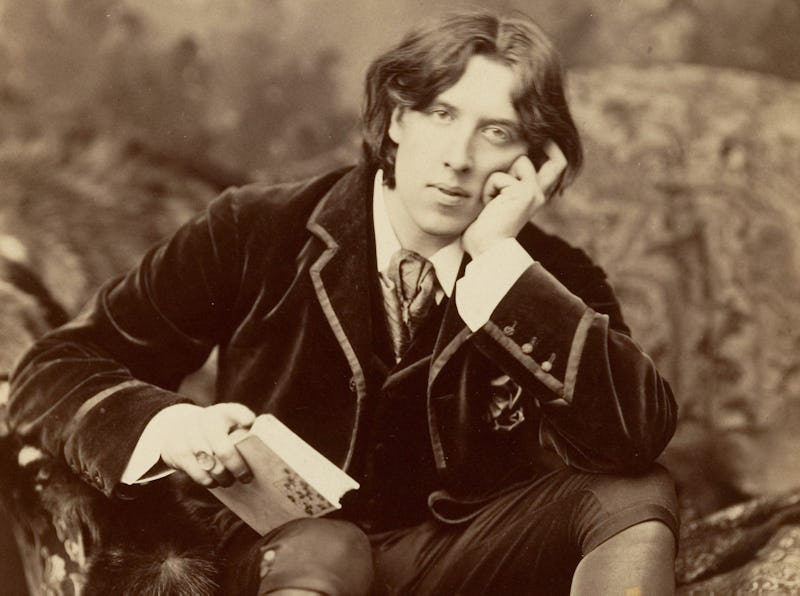 We've all been there: Someone directs a nasty, rude, or just plain irritating comment your way and — with airy poise and a tart tongue — you think up the perfect retort... six hours later. In the shower. With your eye makeup running down your face.
OK OK, so you're not a young Dowager Countess so much as a damp, belatedly-triumphant raccoon. But that's fine! It is! Not all of us think fast on our feet. Why not borrow a few witticisms from the best?
Oscar Wilde was not only a great playwright and novelist, but he was also one of the most celebrated wits of his (or any!) era. He was well-known for his rapier quips and cutting repartee. And, perhaps unsurprisingly, Wilde's quotes have retained their zing more a hundred years later. In fact, you'll find that everyone from well-meaning but overbearing parents to self-appointed fashion police to persistent mansplainers can be dealt with via an appropriately-placed Wilde witticism.
To that end, here is a list of 13 of his Wildest zingers. Whether you're snapping back at a roommate, your parents, an online troll, or, yes, even your mail carrier, Wilde has something that you can pull out for a perfect zing. Take that, sad trombone noise!
When someone says, "You're reading Pride and Prejudice AGAIN?"...
"If one cannot enjoy reading a book over and over again, there is no use in reading it at all."
When your roommate raises an eyebrow at your decision to binge-watch Netflix instead of doing work...
"I can resist everything except temptation."
When, later, the Internet cuts out halfway through his Netflix marathon...
"This suspense is terrible. I hope it will last."
When your parents try to have a serious conversation with you while you're hangry...
"After a good dinner one can forgive anybody, even one's own relations."
When your mail carrier acts judge-y about the amount of online shopping you do...
"Anyone who lives within their means suffers from a lack of imagination."
When someone throws shade at your your outfit...
"I have simple tastes. I am always satisfied with the best."
When someone tells you a job won't pay, but you'll get tons of experience and "exposure"...
"When I was young I thought that money was the most important thing in life; now that I am old I know that it is."
When an online troll calls you "crazy" for expressing a simple opinion...
"In all matters of opinion, our adversaries are insane."
When someone tries to shut you down for being "too emotional"...
"The advantage of the emotions is that they lead us astray."
When someone mistakes your healthy self-confidence for arrogance...
"To love oneself is the beginning of a lifelong romance."
When a mansplainer insists on telling you something that you know to be false...
"A thing is not necessarily true because a man dies for it."
When he then flounces off in a huff...
"Some cause happiness wherever they go; others whenever they go."
And when someone asks why you're quoting so much...
"Quotation is a serviceable substitute for wit."
Images: Wikimedia Commons; Giphy (5)