Your Questions About Apple Pay, Answered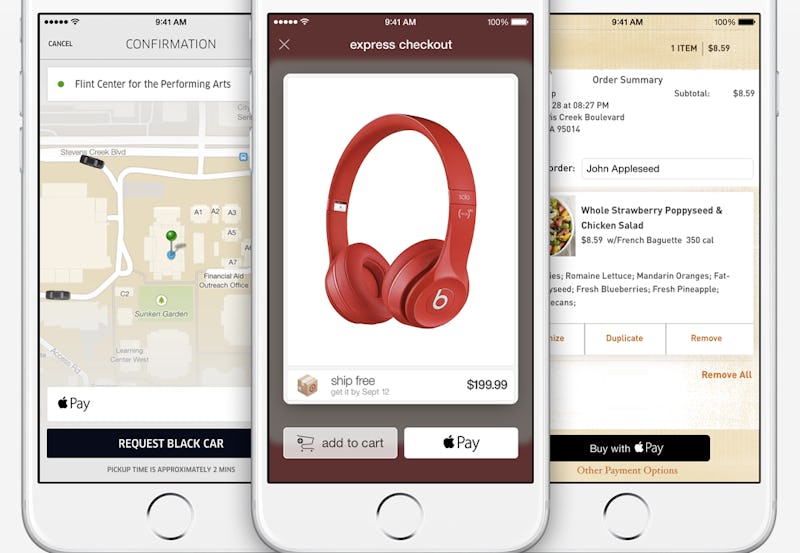 Your life is becoming increasingly dependent on your iPhone, and soon, it'll not only serve as your contact book, your camera, your calendar and your source of fun, but also as your wallet. Described by Apple CEO Tim Cook as the "credit card-killer," Apple Pay will make its debut Monday, October 20. While the payment system might not have come with as much fanfare as the iPhone 6 or the Apple Watch, the effects of Apple Pay will likely be more far-reaching than most of the tech giant's recent hardware. After all, with widespread adoption of the new system, Apple Pay could eliminate the need for plastic cards altogether, and is already on its way to revolutionizing mobile payment solutions.
As exciting as the rollout of Apple Pay may be, Apple users everywhere — myself included — remain brimming with questions that rival our anticipation of the upcoming release date. How does Apple Pay work, exactly? Is it actually safe to store all your credit cards on your phone, which I sometimes drop in water or worse yet, misplace? And should I always bring my actual credit cards as a backup plan in case some places don't use Apple Pay? Fret not, Apple users. The answers to all your most pressing Apple Pay questions are just seconds of reading away.
Go one step back, what exactly is Apple Pay?
The most important of all questions deserves attention first. Apple Pay is a touch-and-go system that replaces the traditional swipe methods of credit cards by storing all your credit card information on your phone. Nothing, Apple believes, impedes mass consumerism like having to actually look for your wallet, and so the company has made the act of purchasing easier than ever by allowing you to just wave your phone in front of a reader in order to make a payment. It's so easy that there's not even an app for it.
How does Apple Pay work?
The payment system works by using a near-field communication (NFC) chip contained in the new iPhones that will also be embedded in the Apple Watch. NFC is a type of wireless technology that allows you to send mobile payments over a short distance to a store or restaurant's corresponding reader, which accepts these payments once you've confirmed them. In order to send a payment, simply hold or wave your phone at one of these readers while keeping your finger on the Touch ID — the home button.
To make the process even easier for you, Apple promises that you won't even need to look down at your iPhone to ensure that the payment went through. Just wait for a "subtle vibration and beep" to know that your money is on its way elsewhere.
Wait, I have an older iPhone — can I still use Apple Pay?
Well...kind of. Ok fine, not really. If you don't have the iPhone 6 or the iPhone 6 Plus, you'll need to obtain an Apple Watch before you can make use of Apple Pay. Because the Watch can be paired with slightly older iPhone generations, iPhone 5 users will be able to make mobile payments by pairing their phones with their new Apple Watches. Without the NFC chip, unfortunately, the payment system just doesn't work.
How do I add credit cards to Apple Pay?
All your credit cards will be stored in Passbook, and can be easily added to your phone by simply taking a picture of the card. If you'd prefer, you can also type in all the necessary information like the credit card number, expiration date, and security code, but why go through all that trouble when you can just point and click? Apple notes that the first credit card you put on your iPhone will become your default method of payment, but if you ever want to change things up, just click on a different card in Passbook or change the default by going to your settings.
Which credit cards work with Apple Pay?
Most of them, it seems. Visa, Mastercard, and American Express are all on board, as are well over 500 banks, including Bank of America, Citi, Wells Fargo and Chase.
how many stores accept Apple Pay?
Over 220,000, by Apple's count. And that number grows every day. McDonalds, Panera, Starbucks, Target, Chevron, Macy's and Whole Food's are just a few from the extensive list that covers everything from retail to restaurants to hotels to gas.
How could this possibly be secure?
Actually, it's supposed to be more secure than traditional credit cards. As Apple notes, whenever you make traditional credit card payments, you reveal your credit card number, its security code and your identity. But when you add your credit card to Passbook, Apple doesn't store the card with its real numbers, but rather assigns it a unique Device Account Number that is "encrypted and securely stored in the Secure Element, a dedicated chip in iPhone." This number is never seen or stored on any Apple servers, so no one, not the cashier, not the reader, and not even Apple, ever sees your credit card number.
You'll also have more privacy in your purchases as well because Apple won't store information about items or services you've bought. The only thing you'll see is a list of your most recent purchases, but that's all the cataloguing that happens.
OK, so my information is safe, but what if i lose my phone?
First off, with the additional security of the Touch ID that is needed to make payments, even if your iPhone is lost or stolen, it seems unlikely that anyone will be able to buy anything using Apple Pay. However, when it comes to the credit card information that is stored on the iPhone, you can easily wipe it clean by using Find My iPhone to put your device in Lost Mode so that it locks itself down, or you can erase your data altogether.
Will people actually use apple pay?
Ah yes, the crucial point. Apple Pay is not the first mobile payments system, and many fear that it will meet the same fate as Bitcoin and Google Wallet. While 220,000 stores accept Apple Pay, there are over 9 million stores in the US that accept credit cards, so there's still quite a bit of ground to cover. Apple, Willy Shih, the Robert and Jane Cizik Professor of Management Practice explained to Forbes, will have to make its payment system appealing to both merchants and consumers. Said Shih,
You can have great technology, but you really have to line up the complementary assets so all the pieces play with you and they are motivated to make it work. At the end of the day, Apple is going to have to make the economics work for everybody. That is a hard job.
Images: Apple; Getty Images