The Top 5 Things From the 'Top Five' Trailer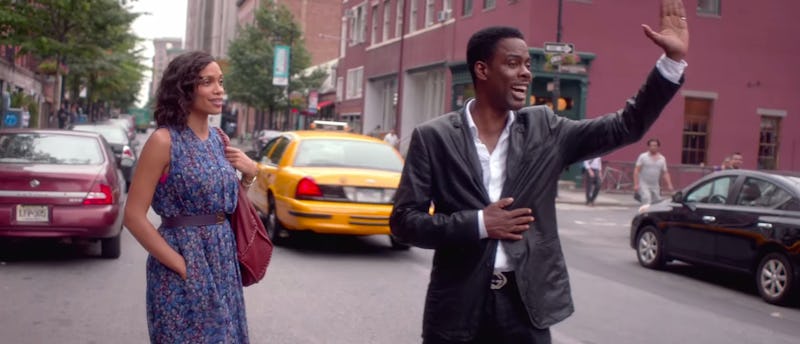 Good news for those of you still mourning the loss of Chris Rock's funniness in movies like Grown Ups 2 and What to Expect When You're Expecting: His new movie is great. Like, vintage Chris Rock, back at the top of his game, totally hilarious great. Case-in-point: The first trailer for Chris Rock's upcoming film Top Five is here, and, not only is does it feature a stellar cast in addition to Rock, like Rosario Dawson, Tracy Morgan, and J.B. Smoove, but it also seems totally worthy of the reported acclaim it received when it premiered at the Toronto International Film Festival last month.
The plot is pretty standard, but trust me, it's all about presentation with this one: In the film, Rock plays a comedian named Andre Allen who's lost his touch with what made him funny in the first place, and has resorted to appearing in not-funny studio blockbusters now that he's reached A-list fame. Amidst a New York Times interview covering his success (and his recent engagement to a suspiciously Kim Kardashian-like reality star portrayed by Gabrielle Union), Andre tries to find himself — and go back to his roots — to find it again. Appearances from other comedians like Jerry Seinfeld and Adam Sandler are promised on the IMDb page, so it looks like comedy royalty really came together for this movie.
You can check out the trailer below, and note — Top Five will hit theaters on Dec. 12.
Also, since it's Friday and we all need a little pick-me-up today, here are the top five things about the Top Five trailer to get you even more pumped for the film:
Its self-awareness
A lot of comedies try to spoof the whole entertainment world with fictionalized, exaggerated versions of celebrities, so the idea is pretty overdone at this point. However, Top Five, though it employs this trope in full form, seems like it's remaining relevant and self-aware enough to pull it off well — right down to Gabrielle Union clearly playing a version of Kim Kardashian.
The cast
Chris Rock, Rosario Dawson, J.B. Smoove, Kevin Hart, Gabrielle Union, Whoopi Goldberg, Romany Malco, and Cedric the Entertainer — just to name a few? Yes, please.
Tracy Morgan!
While Morgan is still recovering from injuries sustained during a horrifying car crash he was involved in this past summer, it's good to see him in a movie again.
The fact that Chris Rock is funny again
Look, I'm not the first and I won't be the last to point out that Chris Rock last movie was not only Grown Ups 2, but it was What to Expect When You're Expecting before that. Apart from Real Husbands of Hollywood (which seems to have similar vibes to Top Five) we haven't seen Chris Rock back in full form for a while — luckily, Top Five seems to be changing that.
That LL Cool J joke at the end
"Before the show!" OK, you know we were all thinking it.
Images: Paramount Pictures (2); Giphy, Giphy, Tinypic, Giphy