Al Madrigal Has Been Making Us Laugh for Years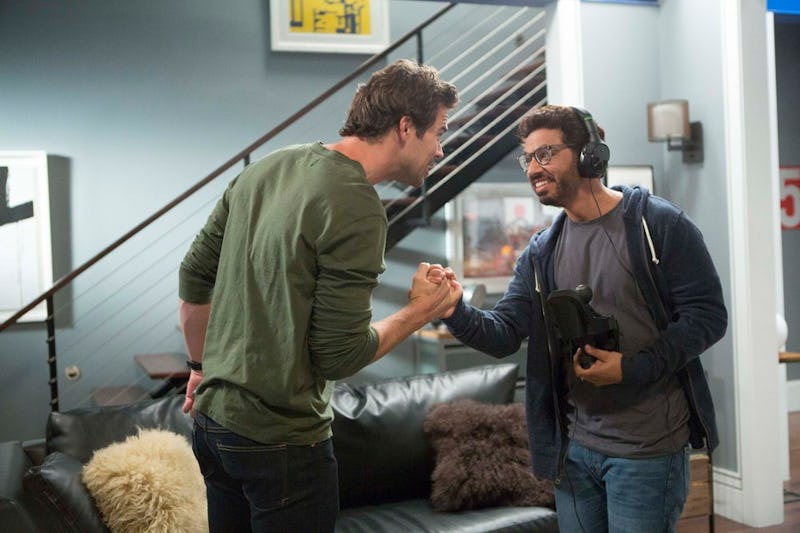 Having basically lived one of those "believe in your dreams" motivational scenarios, About a Boy star and comedian Al Madrigal should be a hero to all of us. During the years spent working for his parents' company in human resources, Madrigal began performing in the stand-up circuit. After a slew of successful gigs, and winning a juror's prize at the US Comedy Arts Festival in 2004, he landed a recurring role on The Daily Show with John Stewart. From there, Madrigal was cast as Will's married-with-kids best friend Andy on About A Boy. From here, who knows where his jokes will take him.
A San Francisco native himself, Madrigal went to the University of San Francisco and as he told 7x7, spent the following several years working at his parent's staffing firm by day (where he mostly fired people, even comparing the experience to George Clooney in Up In The Air) and practicing his comedy at night. He eventually landed on the CBS series Welcome to the Captain, but it was canceled after just five episodes.
Thankfully, even amidst cancellation, his career was far from slowing down. Madrigal would go on to appear on The Tonight Show with Conan O'Brien (and then, Conan), along with Jimmy Kimmel Live and The Late Late Show with Craig Ferguson. He was hired by the Daily Show with John Stuart and since 2011 he has appeared in 62 episodes, according to IMDB. Now, you can catch him living vicariously through Will every Tuesday night on About A Boy. If you're in need of more Madrigal for your day, here's some of his best work.
THE DAILY SHOW
For the past three years, Madrigal has been a correspondent for The Daily Show with John Stewart, where he has reported on hard-hitting topics that range from how the Tea Party wants to be able to ride manatees (above), to a pot boat set on fire in Italy (below).
WHY IS THE RABBIT CRYING?
In 2013, Madrigal got his own hour-long special on Comedy Central, which focus on the joy and humor he finds living in Los Angeles with his kids. If you check out the whole routine, you'll learn that his children once asked him "why is the rabbit crying?" while looking at the tattoos of a gang member.
He's a regular guy, just like us!
There are lots of pictures of his dogs on Instagram like this one, so if you like looking at pictures of dogs (and who doesn't?), you should check it out.
He's friends with Ben Stockham and you're not
Maybe someday the three of us can all hang out.
He will continue to liven up About A Boy
The first episode of About A Boy's new season, where Andy fakes his own vasectomy? That was perfection. Above, a still from the Halloween episode, where the family may be dressed as sharks and/or bananas. I may not fully understand what's happening here, but as is usually the case with Madrigal, I'm loving every second of it.
Images: Isabella Vosmikova, Paul Drinkwater/NBC