'Scandal's Bringing Back These Two Alums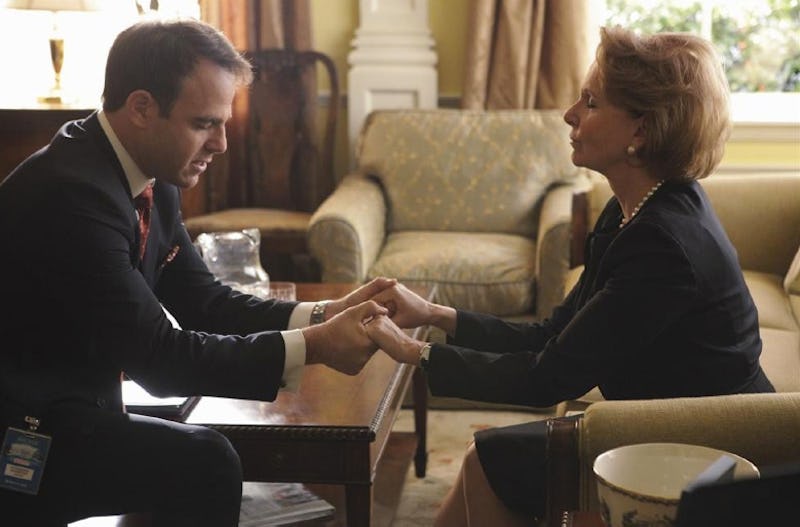 Shondaland vet Paul Adelstein will be returning to Scandal as non-murdery antagonist Leo Bergen later this season. Also coming back will be Jasika Nicole's Kim, AKA Huck's former wife and current mother of his child. Considering the break-neck speed at which Scandal moves, who knows what kind of drama their very presence will bring to the proceedings.
Both Kim and Leo were last seen in last season's finale, though under very different circumstances. Leo, being the campaign manager for vice president Sally Langston's presidential run, was manipulating the media by placing Sally front and center in the aftermath of the finale's big explosion. They ended up losing the election, of course, after Fitz and Mellie's son was killed, but we haven't really checked in with him or Sally since then — as The Hollywood Reporter notes, it's unclear whether Adelstein's return will also mean the return of Kate Burton as Sally, but few would be surprised. Burton's actually been making the Shondaland rounds of late, appearing in last Thursday's Ellis-Grey-centric episode of Grey's Anatomy. You can expect Adelstein's episode to appear in November, presumably just in time for sweeps drama.
As for Kim's return, Huck's relationship with his family has long been something Scandal's been side-stepping, but Nicole's appearing in Thursday's episode, which is called "The Key." Let us hope it will involve us actually seeing Huck interacting with his family, and let's hope that interaction and its consequences involve absolutely no face-licking or torture for anyone. I'm gonna call right now that someone at some point will reference "752."
Image: ABC