Lorelai & Sarah Have A Whole Lot In Common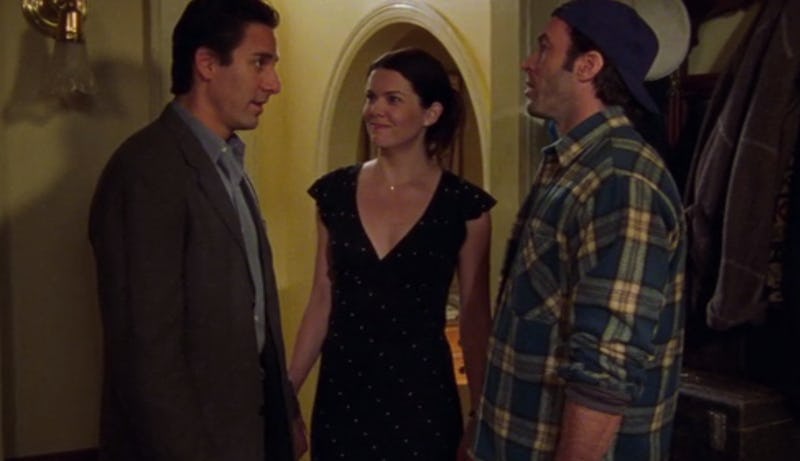 I'm not gonna lie to you, I definitely started watching Parenthood because I missed Lauren Graham something fierce. Lorelai Gilmore was long gone, but there Graham was, once again mothering a clever teenage girl.* Sarah Braverman isn't a Lorelai copy, it should be noted: She, too, is funny and lively and commitment shy, but she's also way more of a wanderer and an artist than Lorelai ever was. Still, the comparison is undeniable, especially when you look at the facts of the stories Lorelai and Sarah are given.
If Graham's Lorelai was a trailblazer for single mother dramedy on television, Graham's Sarah is still very much living on that trail. From their love lives to their relationships with their daughters, Graham's characters share an underlying current of plot points and emotional staples that Graham can't seem to escape from. This isn't necessarily a bad thing, but it's certainly something worth exploring as Parenthood continues with its final season and Gilmore Girls beckons from Netflix.
*She's also got a shy teenage boy, let's not forget about Drew just because Lorelai didn't get one.
Dating Her Kid's Teacher
The parallels started early, and it came in the form of a brunette lit teacher just bonkers in love with Lauren Graham. Both get caught making out at school and the resulting gossip humiliates Graham's kids in both shows. She also ran away pretty quickly from both Max and Mark (they've even got alliteration!), but she came back and got engaged to both. That is, before....
Love Triangle Between A Grump & A Teacher
A grumpy man — Luke, meet Hank; Hank, meet Luke — always serves as one source of tension in Graham's relationships with her daughter's lit teachers. Lorelai didn't leave Max for Luke, but it's partially a talk about marriage after Luke gives her a chuppah that spurs Lorelai to leave Max at the alter. In Sarah's case it was her dynamic with Hank that led Mark to realize that she was gonna keep sabotaging their relationship. In both cases it's Lauren Graham and a surly emotionally distant dude standing in solidarity against a high school English teacher's undying love of her. If I were a high school English teacher I would never, ever date Lauren Graham.
Love Triangle With Her Kid's Father
Similarly, if I were dating Lauren Graham in an onscreen capacity I would have a healthy skepticism every time she absconded with the guy who fathered her children. Christoper and Seth spelled bad news for Lorelai and Sarah both, because try as she might, she just keeps getting drawn back to them. Granted, they are played by David Sutcliffe and John Corbett respectively, so you can kind of get it. But it literally never ends well, because these baby-daddies are simply not as mature as Graham needs them to be.
One lesson both Lorelai and Sarah need to learn pretty badly is that sneaking around with your kids' dad behind your fiancé or soon-to-be-fiancé's back will only end in tears for everyone involved. Both stories at some point involve a daughter stepping in to beg the dad to distance himself because it's ruining her mom's life.
One Major Daughter Rebellion
Mae Whitman's Amber Holt and Alexis Bledel's Rory Gilmore are very different characters — though I'd kill to see them interact — but they do have in common that they've both caused Lauren Graham her fair share of motherly headaches. Specifically, both have triggered her motherly worry after a major rejection in their lives (Amber from UC Berkeley, Rory from her journalistic ambitions after a confrontation with Mitchum Huntzberger). This has led both down a path of rebellion not necessarily in line with their best selves, and has caused Graham to be wracked with questions of if she's a failure as a mother.
Mother Of Boyfriend's Daughter Unwilling to Let Her In
This is the most recent example for Parenthood: The ex-wife of boyfriend Hank (played by Breaking Bad's Betsy Brandt) was highly skeptical of allowing Graham access to her and Hank's teenage daughter. This, of course, ushered in horrific flashbacks to Gilmore Girls Season 6, in which Luke's ex-girlfriend (played by Twin Peaks' Sherilyn Fenn) doesn't want Lorelai anywhere near their shared daughter, April. Parenthood's so far solved this by Hank professing his commitment to Sarah and the mother seeing that she's not going anywhere — miles ahead of the blow-up and breakup that resulted from the Gilmore Girls version. Turns out sometimes a copy can actually be an improvement on the original.
An enviable closeness with her daughter
Both Sarah and Lorelai very reluctantly allow their daughters to plod through their rebellious periods — and when they come out of them they find their relationships stronger than ever, helped along by Graham's characters' deep and complete understanding of her daughters.
Parenthood or Gilmore Girls, you'll likely leave a scene between Graham and one of her onscreen daughters a little more emotionally fulfilled and 100 percent envious.
Images: Warner Bros., NBC