Kathleen Hale Controversy Raises Major Issues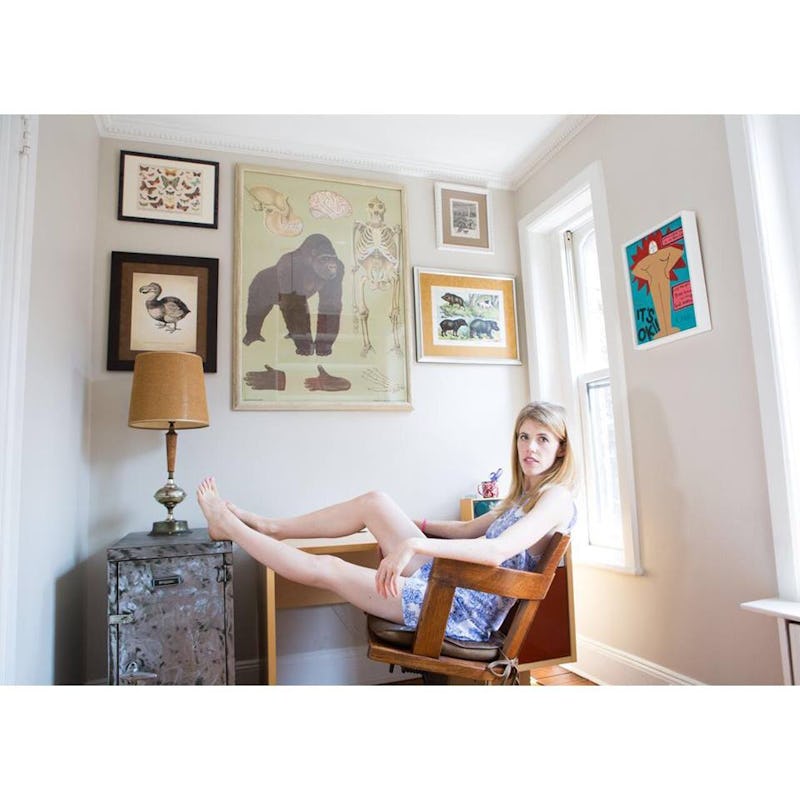 Young adult author Kathleen Hale is embroiled in controversy following her article in The Guardian Saturday, in which she describes renting a car to confront a book blogger she believed was catfishing her. The story is complex, but basically, Hale's piece describes how she felt harassed by a book reviewer named Blythe Harris, who was allegedly contacting positive reviewers of her book No One Else Can Have You to say that the novel promotes slut-shaming and rape apologists.
In the article, Hale describes deceptively obtaining Harris's address and renting a car to visit her home, which she decides to leave before knocking on the door.
I strolled to the front door. A dog barked and I thought of Blythe's Instagram Pomeranian. Was it the same one? The doorbell had been torn off, and up close the garden was overgrown. I started to feel hot and claustrophobic. The stupid happiness book grew sweaty in my hands. I couldn't decide whether to knock.
The curtains were drawn, but I could see a figure silhouetted in one window, looking at me.
The barking stopped.
I dropped the book on the step and walked away.
Over the course of an admittedly privileged life, I consider my visit to Judy's as a sort of personal rock bottom. In the weeks that followed, I felt certain the conclusion to the Blythe Harris mystery was simply "Kathleen Hale is crazy" – and to be fair, that is one deduction. But I soon found out that it was not the only one.
The backlash has been swift against Hale, with the book blogging world labeling her a stalker. And after comedian John Mulaney tweeted the original story, bloggers were quick to comment.
Hale's Goodreads page has also been flooded with new 1-star reviews:
I don't always one-star books I haven't read, but when I do, it's because they fucking deserve it.
Holy fucking shit. Out of respect for a reviewer I admire, I will not hotlink this, but this author is totally fucking unhinged and goes on the Never Support Financially list.
I want to be very clear that I think no one should be stalked because of something she wrote online. But I also don't think that further online defamation is the solution — no one should feel bullied or stalked online. While I don't support Hale's over-the-top actions, I also don't think the issue here is only Hale's.
What I think is being missed from the backlash against Hale is that online harassment seems to have occurred at both ends. Blythe Harris, working under that pseudonym, allegedly contacted positive reviewers of Hale's No One Else Can Have You to give examples of why they are wrong, and then followed Hale on Twitter and responded negatively to whatever she tweeted.
One of the major concerns Hale had was a comment Harris had posted on a positive review of No One Else Can Have You on Goodreads:
Rape is brushed off as if it is nothing ... PTSD is referred to insensitively; domestic abuse is the punch line of a joke, as is mental illness.
It's possible Hale had such a strong reaction to this criticism because the author herself was raped. Hale may have thought a comment saying that her book characters are "rape apologists" insinuated that she herself is also a rape apologist. As a rape victim herself, it's understandable that this would have been an infuriating accusation that might have contributed to her reacting irresponsibly.
Yes, anonymity on the Internet has its advantages. But it's also an easy façade to hide behind in order to spread vitriol and hate, as we know all too well. Both Hale and Harris's alleged behavior was unacceptable on this front.
The situation raises an important question, though: How can parties who feel harassed online — in this case, both Hale and, presumably Harris. Perhaps we need a safe, regulated online space where authors and bloggers can speak without feeling threatened, supported by a neutral mediator.
Either way, Twitter certainly isn't it. And now, many book bloggers feel Goodreads isn't either.
What Hale did was undeniably wrong. But shutting down Hale shuts down the larger discussion we need to be having about social media and trolling.
Everyone in Hale's life, professionally and personally, warned Hale against engaging. And this seems to be the norm in the publishing industry: Do not engage with negative reviewers. But the behavior Hale accuses Harris of constitutes more than a few negative reviews — it sounds like harassment. To suss out the truth in these situations, and dissolve conflict, we need a new solution — one that doesn't place the author anywhere near the reviewer's home.
Image: Kathleen Hale/Facebook