What if your friends were My Little Ponies?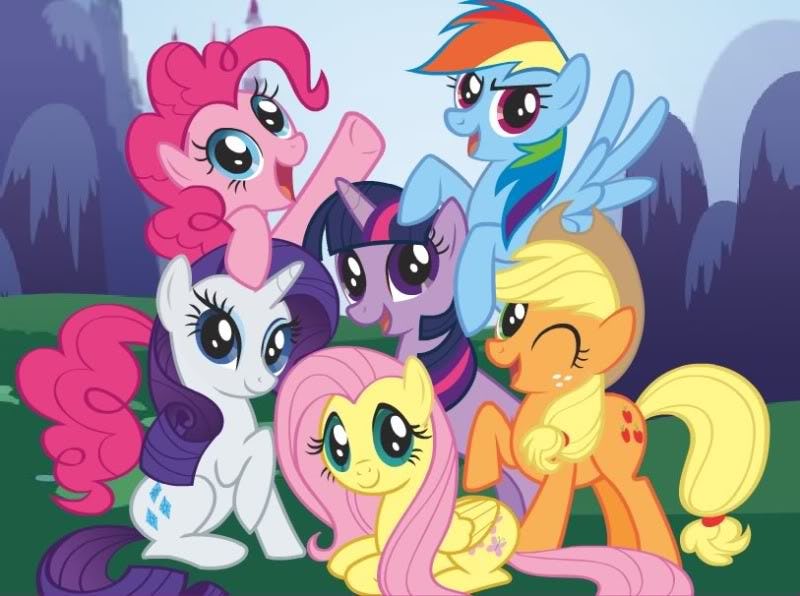 Hold onto your horses: it's just been announced that My Little Pony: Friendship is Magic is coming to theaters in 2017. This is big, big news for my fellow Pegasisters and the army of Bronies that I can't stop side-eyeing. Of course, My Little Pony has been around as an entity for over 30 years, and it's had a few television incarnations since the mid-'80s, but what's made MLP FIM special is a combination of solid adventure-based storytelling and characters with nuanced personalities.
Basically, through simple, smart writing, show developer Lauren Faust (of Powerpuff Girls and Foster's Home of Imaginary Friends fame) worked to create a feminist My Little Pony series, one that showcased that there are "a lot of different ways to be a girl" and that "you can be friends with people who are vastly different from you." And I agree! Because a year before Friendship is Magic debuted, I was making my own feminist My Little Ponies based on, well, the wide variety of friends that I had.
See, the summer after my freshmen year of college, I broke my elbow baking cupcakes (fun story, we'll save it for another time) and one of my friends was super sweet and sent me a care package full of treats and coloring books. My favorite, of course, was the My Little Pony book, which clearly pre-dated Friendship is Magic since only Pinkie Pie is properly represented. Regardless, in my painkiller-induced daze, I decided to color in all the ponies to look like my friends.
This is not an exclusive nor and extensive list, as I've made some incredible friends since, and I've lost just as many (ironically including the girl who gave me this coloring book). Unfortunately, although friendship is magic, it is not impervious to drifting apart, complicated living arrangements, sleeping with someone's ex-boyfriend three times. Regardless, here's some incredible people from my life with incredibly varied accomplishments that deserve the My Little Pony treatment.
I.e., here are my friends as My Little Ponies.
Shelby
This is my best friend and surrogate sister Shelby, who lives in Portland, Maine with her boyfriend Scott and an absurd amount of cats. She's a metalsmith, which means, I believe, she uses all sorts of dangerous tools to create artwork and jewelry out of steel, silver, and the like. Her hair no longer looks like that, and her eyes are always varying shades of blue-green, but the fact that she's covered in taupe is on point.
Jennette
When Jennette and I were in 10th grade, we kind of had the same boyfriend, kind of at the same time. Not a solid basis for a friendship, but 7 years later and we're celebrating Thanksgiving together, and watching Girls every week while downing glasses of wine. She's a photographer and the consummate manic pixie dream girl, who just takes trips to Germany by herself for the thrill. Her hair is actually accurate here, because I think I gave her the original drawing and had to update it this morning.
Daniella
Daniella is like, the Pictionary of success, basically a queen of the underground LA art scene. We became friends in Philadelphia while discussing the virtues of Wednesday Addams' dresses, and now are forever drunk texting each other from across the country. She wears many hats, and is so fabulous sometimes it's painful.
Sonia
Sonia is my neighbor, except for the times when she's in a small Turkish town, teaching English to high schoolers. I think she speaks something like four different languages total, maybe bordering on five, and back at Rutgers she was part of this feminist art collective house/band/thing, and I crashed with them during two dark days after Hurricane Sandy. Memories.
Rachel
My friend Rachel is actually the gothiest goth in gothtown, whereas I'm sitting here like Diet Goth in Lilly Pulitizer dresses. She's finishing up her illustration degree at Art Center College of Design, and she's the lead singer of an all-girl rock band called Gin Wedding. Think Brody Dalle meets Glenn Danzig. I think her step-grandfather is the creator of Peeps or something, but don't quote me on that.
Dr. Frankenfurter
From Rocky Horror Picture Show. I'm just really proud of this, and I was on a lot of Percocet at the time.
Leah
Probably my oldest and most conventional friend, she has a normal job with an actual salary, but I still like to remind her about all the twisted fanfiction we wrote together as kids. She's incredibly hot, according to everyone who's ever met her, including my mom and myself. She's also moving to San Francisco with her boyfriend tomorrow, hopefully to have some new adventures.
Me
Thrown in for good measure, because you can't be friends with anyone unless you're friends with yourself first. In short, I'm in my early twenties, I live with my parents in New Jersey, I like coloring, and I'm kind of a badass.
Here's hoping that the movie does female ponies justice, as well.
Images: Hasbro and Mary Grace Garis