Jill Proves that the Duggar Women Can Have Careers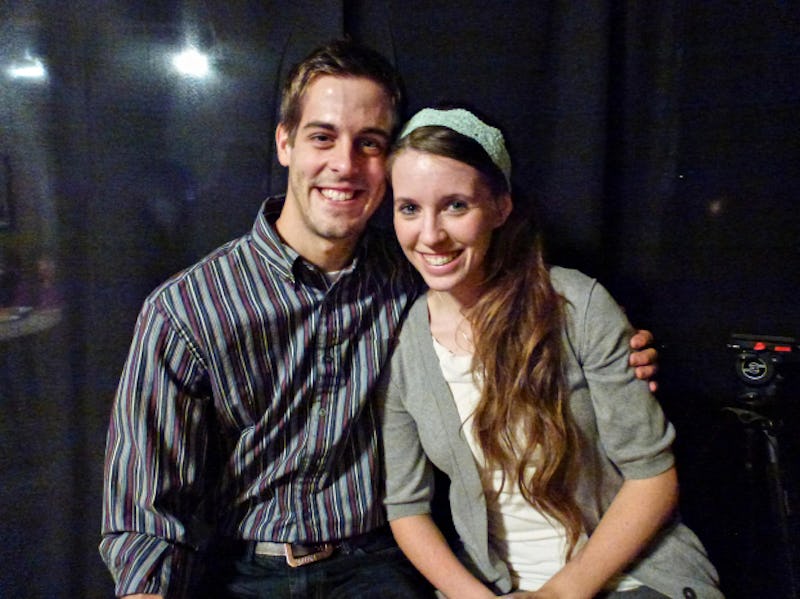 Say what you will about the Duggars of TLC's 19 Kids and Counting, but the women of this family are not to be misunderstood. Their deeply conservative, religious upbringing may place a priority on becoming wives and mothers, but that doesn't mean they don't have additional goals. It's true that getting married is the big ticket out of the oversized Duggar compound in Tontitown, Ark., but nobody's sitting around wistfully looking out the window as they write in their diaries about their dreams to get married while they wait for a courtship. Instead, they're studying, they're going to school, they're learning trades, and they're finding fulfilling careers that also help others — so if you want to challenge me in a duel to defend the Duggar honor, I will happily step up. Exhibit A: Jill Duggar. Before she and husband Derick Dillard tied the knot in June, Jill was busy honing her skills as a midwife.
As you can imagine, an expertise in childbirth is a very valuable skill in the Duggar household, so I'm guessing that's where Jill found the inspiration to help expectant mothers. But since watching her mother give birth to many of her brothers and sisters, Jill's discovered that she loves helping women she's not related to as well, and it's nearly spawned into a full-blown career.
It all began in May 2012, when Jill started her formal training. According to a blog she wrote for TLC, her training included distance learning classes based out of Texas mixed with a local, hands-on apprenticeship. She's particularly passionate about home births, and since beginning her training, she's been present to welcome over 60 babies into the world. That's a lot of life she's partially responsible for!
"Each birth is incredibly unique and special, and I learn something new at every one of them," Jill wrote. "Not everything is peaches and cream, and some days are hard, but I have been blessed to work with a great group of ladies." As of earlier this year, Jill was still a student midwife, learning how to assist with natural childbirth. She talked a little bit about it in the interview below.
If she's still keeping up with her training — and since she's so passionate about it, I hope that she is — in 2015 she'd be on track to become a licensed CPM (Certified Professional Midwife). I realize she's sort of busy trying to, you know, birth kids of her own and all, and that the motherhood that follows is obviously going to affect her schedule. But I would love to see a Duggar girl continue to follow her career dreams after becoming a wife and mother, if for no other reason than to prove to their younger female fans who may come from similar backgrounds that it is possible.
Image: TLC