And The Newest Lay's Flavor Will Be...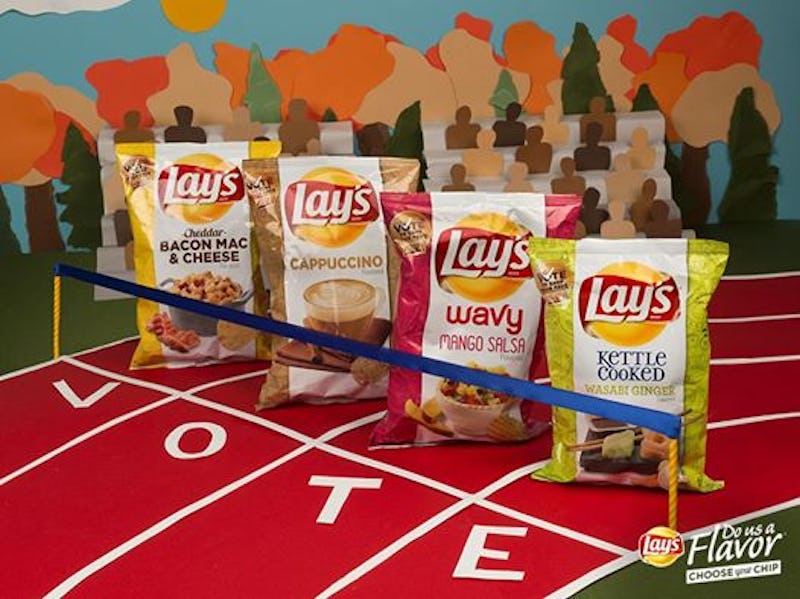 After months of anticipation wondering which potato chip flavor will line the shelves next, Lay's lovers can finally rest easy. The winner of the Lay's "Do Us A Flavor" contest has been revealed — and it's time to introduce your tastebuds to Lay's Wasabi Ginger Kettle Chips.
Around a million people voted for their favorite of the four finalist flavors, which included Bacon Mac & Cheese, Mango Salsa, and controversial contender Cappuccino. As it turns out, folks weren't totally sold on the idea of eating chips that tasted like their Starbucks order. The cappuccino flavor raised something of a confused Internet uproar, with some people going so far as to call it a "cappu-no-no," or at the very least, "abominable." But revolted reviewers can now rest assured that cappuccino-flavored Lay's will no longer pose a threat to our supermarket shelves ever again.
The woman who dreamt up the winning Wasabi flavor, New Jersey nurse Meneko Spigner McBeth, will win one million dollars, or one percent of the chip's first-year sales — whichever is more. The inventors of the other three finalist flavors will each receive $50,000, which means you better believe I will absolutely enter a flavor idea of my own in next year's contest.
This is only the second year for the Lay's "Do Us A Flavor" contest in the U.S. Last year, Cheesy Garlic Bread managed to beat out other flavors Chicken and Waffles and Sriracha to take home top honors — and it's still being sold in stores today.
The "Do Us A Flavor" contest was originally launched in the U.K. and made its way to 14 countries before coming to the U.S. last year, the AP reports. Other winning flavors include Pizza from Saudi Arabia, Shrimp in Egypt, Pickled Cucumber in Serbia, Aline's Caesar Salad in Australia, and Sunday Roast from New Zealand. Honestly, the shrimp flavor makes the cappuccino chips sound a little more appetizing, if you ask me.
So far, the contest has proven to be pretty profitable for Frito-Lays, meaning that our subjugation to weird potato chip flavors doesn't appear to have an end in sight. On the other hand, it also means that there is still time for me to win the million dollar grand prize. Please feel free to send over suggestions.