Halloween Costume or Williamsburg Resident?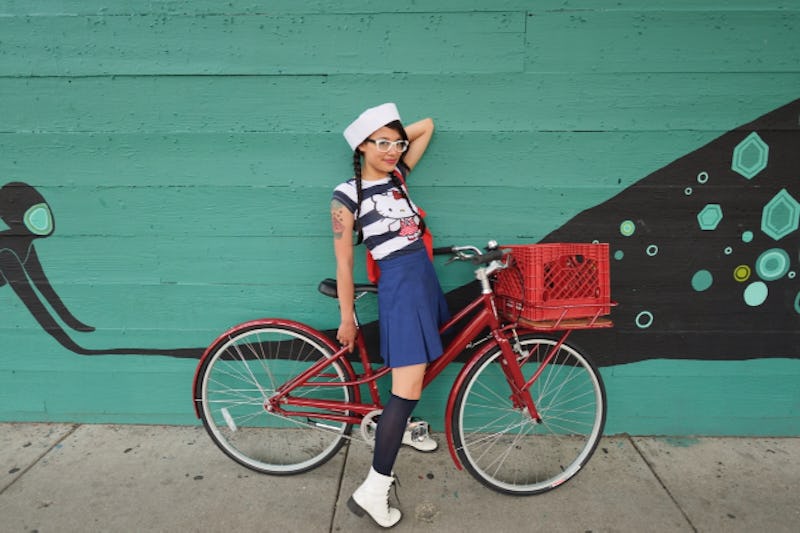 There's nothing quite like Williamsburg. I really don't think anywhere else exists where you can sit down in a café and watch a man pull out an honest-to-goodness record player in lieu of an iPod, or see well-dressed toddlers sipping on a babyccino, and straight men shop for artisanal beard oils for their perfectly-coiffed facial hair. And the Halloween or Williamsburg Tumblr — started back in 2011 but ramping up for another season of awesomeness as Halloween quickly approaches — perfectly embodies the spirit of this quirky Brooklyn town.
In the land of hipsters and Judy Funnie, it would be a weird day if you didn't see someone dressed up in a bizarre, probably-ironic-but-I'm-not-totally-sure, must-stand-out-from-all-the-basics outfit. With all the all the top hats, fur pants, and crocheted suits (and trust me, that's some of the least weird stuff you'll see), you might forget what neighborhood you're actually in because you could have totally just taken the M train to Halloweentown. The hilariously sarcastic geniuses behind the blog seem to have had that same thought.
The Tumblr, which posts photographic evidence of the weird stuff that goes in that strange little niche of a neighborhood, begs the eternal question "Halloween or Williamsburg?" Are those cat ears and tail you're rocking a costume or are you just a Brooklyn resident? Heading to a themed party or is this your regular, old Tuesday commute. When it comes to Williamsburg, one never can tell… Check out some the most mind-boggling, what-are-you-even-doing-with-your-life posts below, just in time for some October 31 inspiration.
1. "Got it off of Modcloth"
2. Superhero or Hipster Chick?
3. He's just dressing for all weather conditions. Totally understandable.
4. The only thing that really bothers me here is that sequin mesh bag that was popular back when I was in middle school
5. Just a little pop of color
6. If this is Halloween, she looks a hell of a lot warmer than I was that year I was a belly dancer
7. Maybe it's a form of protest against... something?
8. Excuse me, but they are clearly just coming from their yoga class and are on their way to get some raw vegan juice
9. Just live and let live, man...
10. Do you even know how many carbon emissions they're saving?
Images: Lorena Cupcake/Flickr; HalloweenOrWilliamsburg/Tumblr