Bad News For 'The Bridge' Fans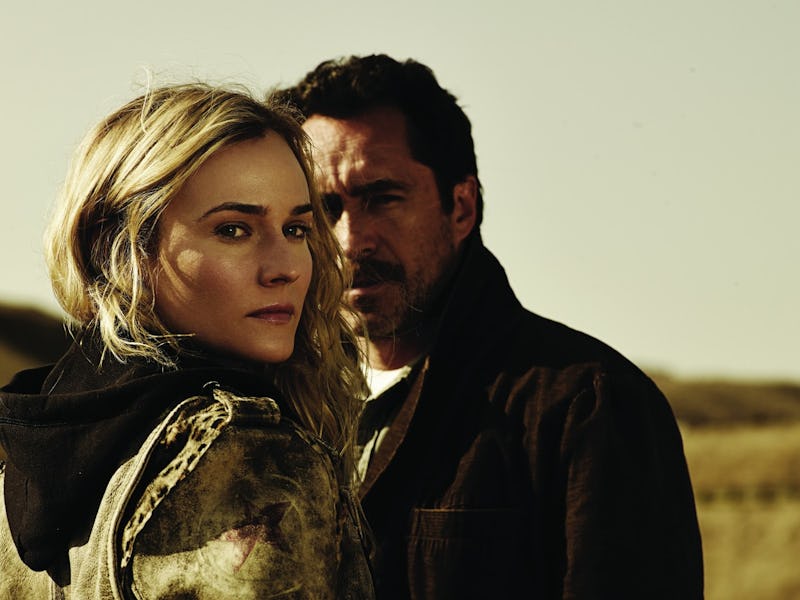 Say it with me now: Noooooo. According to TVLine, FX has cancelled crime drama The Bridge after only two seasons, citing low ratings and struggle to maintain buzz as the reasoning behind this terrible, terrible decision. Look, I totally understand that networks are a business and if a show just isn't performing well, it has to be pulled from the air — but GUYS. This was a show about DIANE KRUGER AS A SMART, RESOURCEFUL, BADASS COP. It was too good to deserve a sad fate like this one.
The series, which is based on the Danish/Swedish series of the same name, also starred Weeds alum Demian Bichir. In short, it focused on Kruger's character, a detective working in El Paso, Texas, and Bichir's character, a detective working for the state police in Chihuahua, Mexico — directly on the other side of the Texas border between the US and Mexico — as they investigate a serial killer together who appears to be operating on both sides of the border. It was pretty great, and it also allowed us to see Diane Kruger on our television screens every week, which was an added bonus.
Ratings-wise, unfortunately, the show never quite took off: During season 2, it only averaged about 1 million viewers per week, despite winning a Peabody award earlier this year. According to The Hollywood Reporter, it's currently being shopped around to other networks.
Image: FX