Wait, Did They Just Trap Him In A Rubik's Cube?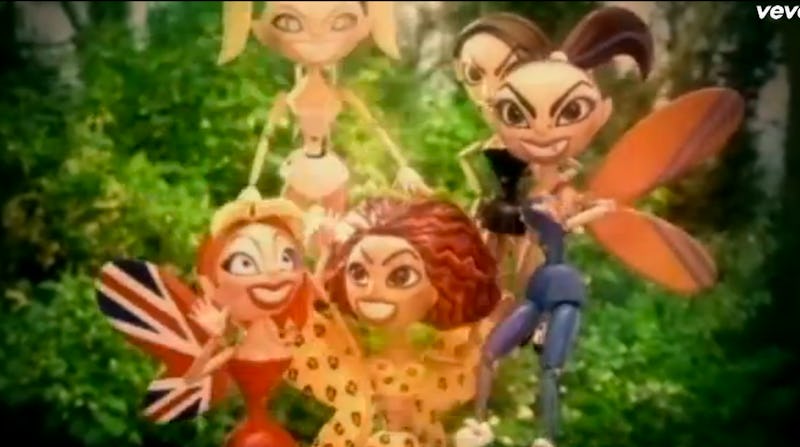 If you have not seen the music video for Spice Girls ballad "Viva Forever", boy howdy, are you in for a treat. A strange, surreal, quarter machine egg-encased treat. The ninth track off of Spiceworld was not released as a single in the US, but the song (and its music video) was a huge hit in Europe and Australia. I didn't see the vid when it dropped back in 1998, but thanks to an imported Spice Girls magazine I used to save up my allowance for (shout-out to my parents' go-to grocery store for keeping that mag in stock. You always had my back), I knew the music video existed. It would be another few years before I fired it up on the Internet and watched it for the first time.
The "Viva Forever" video was directed by Steve Box of Aardman Animations (the studio behind Wallace and Grommit and Chicken Run) The dreamlike stop-motion trip took five months to make (here's a little splash of perspective: The 93-minute long movie Spice World only took six weeks). At the time of the video's release, Box told BBC News that it was "the most difficult job I have ever done."
Before I revisited the music video Tuesday afternoon, the only thing I could remember about it was the pack of winged Spice dolls. So, re-watching the video in 2014 was basically like watching it for the first time. How the zig-a-zig-ah did I forget about the part when the Spice Girl fairies lock a mortal boy in a Rubik's Cube?
Yeah, ish gets weird. Here are 36 moments from the "Viva Forever" music video that I felt warranted a screengrab:
Oo, what's in the giant quarter machine egg?!?!?!
Oh, nothing crazy. Just a rooster with springs for legs.
Let's follow the spring-legged rooster into the enchanted woods!!!!!
The spring-legged rooster didn't lead us astray! Another giant quarter machine egg! More surprises!
AHHHH IT'S THE SPICE GIRL FAIRIES! THE BEST KIND OF SURPRISE!
Peace out, dude.
Intimidating formation, Spice Girl Fairies.
AUGHHHHHHHH.
Scary Spice Fairy teases the kid about his friend leaving him in the dust.
Hold still, young man. Maybe Posh Spice Fairy won't see you.
Oh. Posh Spice Fairy totally sees you. And she's totally messing with your glasses.
And Posh Spice Fairy is totally whispering at your mouth.
And Ginger Spice Fairy is totally grabbing your mouth.
Aaaaand Ginger Spice Fairy totally left a lipstick stain on your nose. I think it might be permanent.
AUGHHHHHHHHH.
Sporty Spice Fairy kicks and punches the air as if she's daring the kid to run away.
Things take a turn for the weird when Baby Spice Fairy's teeth disappear.
And then, Baby Spice Fairy attacks the kid with possibly poisonous fire-glitter.
I'm sure there isn't anything nefarious about this random Rubik's Cube. It's just so colorful and fun!
Welp, the kid is floating.
Ah. I see. The Spice Girl Fairies are carrying him through the air.
The Spice Girl Fairies treat the kid to a Rubik's cube concert (I'M SO JEALOUS).
Ginger Spice Fairy's square floats up into the sky and she disappears for forever (don't mind me as I weep).
Well, well, well. Look who decided to check on his pal.
Yeah, your buddy is inside a giant Rubik's Cube. And yeah, four fairies are locking him inside the Rubik's Cube.
LOL you're too late.
Aaaaaand now the Rubik's Cube—and your friend—is shrinking.
And shrinking some more. (Your friend is sooooo tiny right now.)
Where are we? What's with all of the quarter machine eggs? Will there be a spring-legged rooster uprising?
OH, HI GIANT QUARTER MACHINE. Didn't see you there.
The kid sees the open quarter machine egg. It's glowing. He doesn't run away. Instead, he throws his friend's Rubik's Cube prison into the quarter machine egg.
With superhuman strength, he lobs the giant quarter machine egg into the air (of course he does).
And the quarter machine egg lands in the slot (of course it does).
You'd think there'd be some fanfare, but no. Sorry, kid. You might as well pack up and leave this quarter machine egg field.
TURN AROUND! GLITTER IS SHOOTING OUT OF THE QUARTER MACHINE!
SERIOUSLY! TURN AROUND! It's the four Spice Girl fairies! (Bye, Ginger Spice Fairy!)
He never turns around. He leaves his friend in the quarter machine forever. The end!
Images: emimusic/YouTube (37)