#TBT Reads: We <3 Lois D. Because She Terrified Us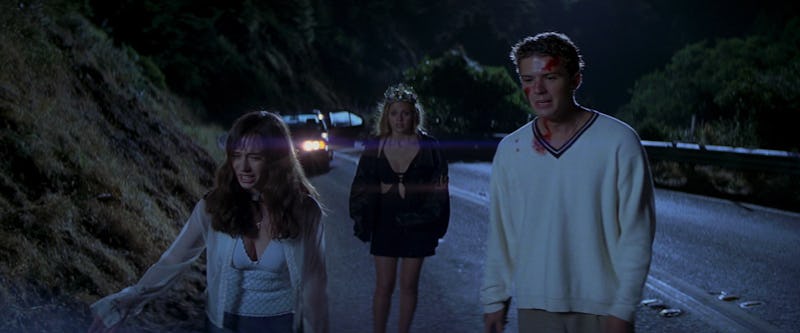 When we talk about childhood horror and suspense books, we often are quick to talk about R.L. Stine and Christopher Pike. But one woman stands out for many of us: Lois Duncan. The author published fewer books than Stine, but she's had a lasting impact with her contributions to the genre.
Duncan is an inspiration to all young women writers out there. She sold her first story to a magazine when she was only 13 years old. In high school, she continued writing as a regular contributor to Seventeen. Since then, she has published more than 300 articles in all kinds of magazines, from Ladies Home Journal to Reader's Digest.
Duncan, though infamous for horror and suspense novels, has published 48 novels in total, and many aren't in that genre, such as Hotel for Dogs, which was made into a film starring Emma Roberts. In 1992, she won the Margaret A. Edwards Award for her contributions to young people's literature.
Tragically, Duncan's real life has seen its share of horror. In 1989, Duncan's daughter Kaitlyn Arquette was murdered in Albuquerque, and the author is dedicated to solving this still-open case, amid allegations of police cover-ups. Duncan published a nonfiction book about the crime in 1992, titled Who Killed My Daughter?
Of all of the suspense novels she has written, there are three that stand out in particular:
I Know What You Did Last Summer
In case you forgot, that '90s teen vehicle (no pun intended) for stars Sarah Michelle Gellar, Jennifer Love Hewitt, Ryan Phillippe, and Freddie Prinze, Jr., was originally a Duncan novel.
(That is some serious '90s fashion FTW. Overalls, tied up shirts, chunky headbands, and please someone bring back upper-arm cuff bracelets.)
I watched this Kevin Williamson movie on VHS I can't tell you how many times. Well, I could probably estimate, but I would be embarrassed. It's a simple premise, and when you keep it simple, you can get some serious scares. And that's all thanks to Duncan's handiwork.
After leaving a graduation party, four teenagers hit a young boy with their car and leave him for dead. They make a pact to never tell anyone. By the next summer, the four have all drifted apart, until they all start receiving warnings, saying — you guessed it:
Though the movie strays from the book, the essence is the same. It's a story about the decisions we make, the ones in haste, that will literally haunt us even after we think we've moved on.
Stranger With My Face
Ever get that weird feeling that someone is watching you? Well, then you probably shouldn't read Stranger With My Face because it will give validity to all of your fears. Laurie's friends keep spotting her doppelganger around town, which wouldn't be all that strange, except that it's beginning to happen more and more.
But this isn't some joke. The doppelganger is actually Laurie's identical twin sister Lia, who she was separated from after being adopted. But it's not exactly a happy reunion, as Lia has built up some animosity.
What Duncan does best is finding things that we fear (feeling like we're being followed or watched) and twisting them into reality, warping them by adding even new fears into the mix.
Killing Mr. Griffin
Killing Mr. Griffin centers on a group of teenagers who plan to kidnap their super strict high school English teacher and, well, things go very wrong — as you can tell, the title isn't "Kidnapping Mr. Griffin."
I read this book as a summer reading choice from my middle school (ah, the censors have come so far since then) and I was hooked. As the students' plan starts to unravel—and frankly, it's not like it was a winning idea to begin with—you can't help but just fly through the pages to the end.
Unfortunately both movie adaptations of Duncan's novel were... unfortunate. First, there was a TV movie back in 1997 starring Power Ranger Amy Jo Johnson, A.C. Slater Mario Lopez, and Oscar-winning actress Michelle Williams, pre-Dawson's Creek (though she'd probably like to forget it.)
Second, Kevin Williamson (clearly an avid Duncan fan) tried to pull a movie together, but had to drastically change it in wake of the Columbine shootings. The result was Teaching Mrs. Tingle, which make no mistake, is not a good movie.
And yes, you're remembering correctly: Helen Mirren did play the Mr. Griffin role.
Oh Lois, you deserved so much better.
And if you weren't already sold on how great Duncan is, check out this photo of her hanging out in her hometown of Sarasota, Florida. She's on the left:
If You Loved Lois Duncan, Try Reading...
Like the Scream Queens before her — Jamie Lee Curtis' Laurie Strode, for one — Rory Miller has survived the attacks of a serial killer. But after the murderer escapes, she must enter the Witness Protection Program with her family. They start to sink into their new lives, but when one of Rory's friends goes missing, she can't help but wonder...
2. Bliss by Lauren Myracle
Prepare yourself for one horrifying sleepover scene in Lauren Myracle's Bliss . Myracle, like Duncan, totally gets the fears of teenagers and warps them into something totally scary.
3. Asylum by Madeleine Roux
In Asylum , you don't have to imagine the horror, because the terrifying photographs will put it right in front of you. When three teenagers learn that their summer program is housed in what used to be a sanatorium, they decide to go exploring, to some haunting results.
Images: Columbia Pictures; Giphy (2); (Magnus Manske)/Wikimedia Commons